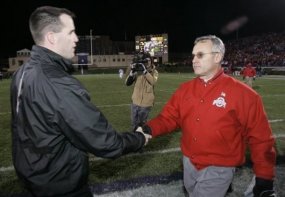 We're counting down the weeks until kickoff by profiling a different Big Ten team each week. Today, Fitzy's Wildcats are up.
Pat Fitzgerald is entering his third season at the helm of the Wildcats and is coming off a summer in which he was elected to the college football HOF, being inducted before Chris Spielman, WTF? While Spielman was the best of the two on the field and will be in the hall soon, Fitzgerald holds the edge in the coaching department.
COACHING: Pat has compiled a 10-14 record in his first two seasons and this is expected to be his breakout year. After Randy Walker's sudden passing, Fitzgerald has done a remarkable job at holding this program together and there should be no hot seat for him this year, although his best team is expected and a bowl game is going to be the goal.
OFFENSE: The Wildcats return seven starters on offense, including CJ Bacher and Tyrell Sutton. Bacher lead the conference in yards per game last year, accounting for just over 307 yards per contest, 304 of which came through the air. Sutton enters his senior season, hoping to stay healthy. After eclipsing the 1,000 yard mark in his first two seasons, Tyrell missed over half of last year and finished with just 531 yards on 108 carries.
Sutton will be joined by Omar Conteh, another senior who ran the ball 96 times for 479 yards last season. Both players averaged 4.7+ yards per carry and could be a sleeper dynamic duo in the conference. Bacher returns 3 of his top 4 receivers (all seniors), including Eric Peterman, who caught 66 passes for 744 yards last year. Ross Lane and Rasheed Ward combined for 95 catches, 1083 yards and 7 touchdowns (all by Lane) and will add experience to this receiving corps..
The offensive line will have to replace 3 starters from last year and the returners have a combined 36 starts. With seniors at all the skill positions, the line should have a couple of games to develop, which is going to be key to Northwestern's season.
DEFENSE: Northwestern returns eight starters on defense, but needs to replace 3 of their top four tacklers from last year, including Adam Kadela, the Columbus native who lead the team with 125 tackles.
To help the transition, Fitzy brought in Mike Hankwitz, the DC at Whisky the last two seasons and a veteran of 38 years, 32 of which have been winning seasons. The Wildcats, on average, have given up no less than 25 points a game over the last six seasons, so Hankwitz has his work cut out for him.
Mike's defense should be anchored by his front seven, as the line returns all four starters and the linebackers return 2 of the top 3. The defense last year gave up 31 points a game, so I don't know if returning all of these players is beneficial. Until the Wildcats prove they can consistently stop teams, shootouts could be the norm for the 2008 season.
KEY GAME: The key game for me, is Duke. The Blue Devils came into Evanston last year and knocked off Northwestern 20-14 (Duke's only win). The Blue Devils are under new leadership and back-to-back wins against a Big Ten opponent will only be fuel for the fire of Big10 haters across the country. Another loss, this time in Durham, could send the Wildcats into a disappointing season.
BEST-CASE: Going with my theme for the year, the Wildcats should take care of their OOC schedule, which includes home games against Syracuse, Southern Illinois, Ohio U. and at the aforementioned Duke.
If they go .500 within the conference, they should reach a bowl game and end up with a 8-4 record.
Sutton and Bacher are going to lead this team throughout the season, but need to stay healthy. The Wildcats have Whisky and PSU off their schedule, so wins over Iowa and Michigan on the road are going to be vital.
This is going to be a pivotal year for Pat Fitzgerald, his team is going to have high expectations amongst their 10,000 fans and nothing less than a Sun Bowl appearance will be accepted.
For those of you who haven't been to Northwestern for a game, it is worth the trip. You can take a train to the game, drink the only local bar out of beer and sit five rows off the field, then take the train home. It is more of a home game for the Bucks and sweet seats are always available.