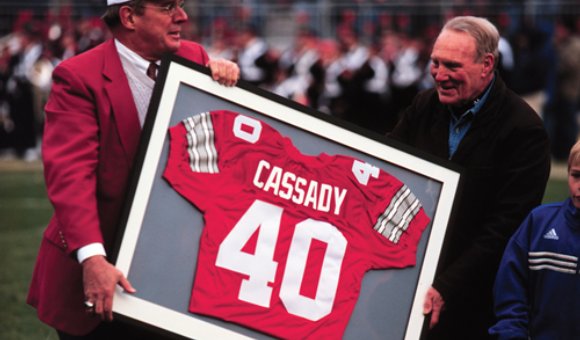 Since Ohio State began retiring numbers back in 1999, a total of seven legendary Buckeyes have had the honor bestowed upon them. The list is certainly an impressive one featuring the likes of Archie Griffin, Vic Janowicz, Hopalong Cassady, Les Horvath, Eddie George, Chic Harley and most recently, Bill Willis.
All that group did was combine to collect six Heisman Trophy's, 13 First Team All-American selections, six inductions into the College Football Hall of Fame (Eddie's will come) and one Pro Football Hall of Fame enshrinement, setting the bar for any future honorees.
So, that begs the question...Who's next?
Personally speaking, here's my short list of potential candidates. Do you think one of them is worthy of being next or are you going off the board?
Jack Tatum The Assassin was my Pop's favorite Buckeye growing up and between that and his incredible resume, I think Tatum's at the top of my list of Who's Next. The headhunter was recruited as a running back but switched to safety where he became a two time All-American and National Defensive POY known for laying wood with even more tenacity than Peter North.
Ohio State went 27-2 and won a national title with Tatum patrolling the secondary and his legendary status is cemented by the fact he was named a captain on the OSU All-Century Team.
Chris Spielman If not Jack Tatum, then my next choice is Chris Spielman. Others LB's like CFB HOF'er Randy Gradishar probably have a more impressive resume but this is my list and I have to put him in my top three.
Spielman did rack up two All-American selections and captured the '87 Lombardi Award while creating the template for what every true Buckeye should be. The maniac from Massillon still serves as a great ambassador for the university and no player before or since can say they love the program any more than Spielman. Plus, dude used to play tackle Smear the Queer on blacktop as a kid.
Orlando Pace The last of my top three candidates has to be Orlando Pace. He made the tackle position sexy on his way to an Outland Trophy and back to back Lombardi's before becoming the #1 overall selection in the NFL Draft. Bucknuts says the two time All-American registered 80 pancakes his junior year and I certainly can't argue.
Pace was the most dominating lineman to ever come out of Ohio State and that's saying something considering the names Hicks, Parker and Stillwagon also suited up for the Scarlet and Gray. In fact, he might be the best college lineman of all time. Oh, and he can hoop, too.