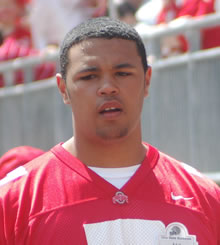 The recruiting of high school football players has blown up over the last five years. There is so much information and exploitation of these young kids, it is difficult and expensive to keep up. I try not to get too hyped over someone who has yet to play a down for OSU, as rating 16 and 17 year olds is definitely not an exact science, so IMO, none of those rating services mean much.
However, it is hard not to notice the new verbals Tressel and his staff seem to be pulling in every week. We all know Tressel has a nice chunk of recruits verballed for the 2009 season and kids are jumping at the chance to play in Ohio Stadium.
Since Vico inspires me to know my Buckeyes a little better, I wanted to read a bit more on Tressel's boys possibly coming to Columbus next fall. The list is quite solid, as 11 of the 14 are four or five star recruits, according to Scout and Rivals.
That is obviously impressive, but how about the head start JT has on the rest of his peers. After back to back national title games and three straight Big Ten championships, what high school kid wouldn't want to come here and play in the Shoe, if offered a scholarship?
Michigan is second with seven verbals, although those recruits will probably be forced to sign their LOI under false pretenses, with nonwritten agreements and pressure from the governor. Michigan St. and Penn St. follow with six each .
However, the rest of the conference, has a total of 14. That's right, Ohio State has as many verbal commitments as Minnesota(5), Wisconsin(3), Illinois(2), Iowa(2), Northwestern(2), Indiana (0) and Purdue(0), combined.
Jim Tressel and his staff have their recruiting machine rolling, picking up the top players nationally and separating themselves from the rest of the conference. While I think it is too early to discuss the 2009 class, I wonder if there is a freshman coming in this season, not named Terrelle Pyror, that you would like to see turn into a Buckeye Legend?