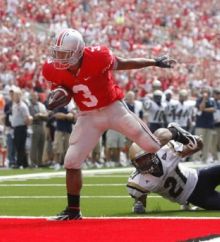 Since Saturday's jersey scrimmage was closed to everyone but staff, members of the MSM and select members of coachtressel.com, there's not a whole lot I can add to the conversation. We're stuck parsing the accounts of beat reporters.
Everybody's Talking about Saine
Although not quite as bulked up as had been rumored (Gordon mentioned he was 220), Saine is getting a chance to show what he can do during Beanie's recovery from surgery. His touchdown scamper was a combination of speed and power and his versatility and ability to open up the field are a vital ingredient towards a championship run. I'd love to see him used in more of a Harvin role with Beanie, Mo and Boom carving out the traditional carries.
Boeckman is Showing Signs of that Senior Leap
TB scared a lot of fans down the stretch last season and he did assist Bauserman in letting the defense register 8 sacks on the day, but it sounds like he looked like a senior quarterback, at least. There's probably no Buckeye with more pressure on him this season than Boeckman. The starting quarterback of a major program is always a pressure cooker, but the heat is a little bit hotter when LiC is coming.
It's Crowded at Linebacker
So crowded, in fact, that Curtis Terry has been seeing considerable work at the fullback spot, despite supposedly tearing it up in the scrimmage on defense. Thaddeus Gibson was moved to the "Leo" spot and evidently played well, despite a horse-collar call that went against him. The early lead in the battle for Grant's open position appears to be held by sophomore Tyler Moeller, though it was pointed out that Moeller is a bit undersized and could be more of a look to take on the spread offenses the Buckeyes will encounter this season.
The Ghost of Ray Small is in the Doghouse
He's already lost his number (can you remember the last time that happened to someone with so much hype?) and he again showed off his fragility by heading to the sideline with an ankle injury almost immediately after getting some snaps with the 3rd team offense. Don't look now, Ray, but Dane and Taurian are passing you by.