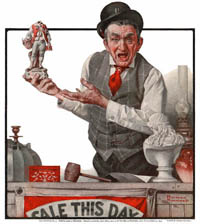 With the recent discussion of how best to use Pryor, there's no doubt that many of you have your own ideas about how to best run the Buckeye offense.
Well, the good news is that the athletic department is giving you a chance. At least for a day -- in an honorary capacity. And that part about calling plays? It's a stretch.
But why dwell on the fine print?
Through an officially sanctioned auction, one lucky bidder will win the right to serve as an honorary assistant coach for the spring game. The athletic department is billing it as "The Ultimate Spring Football Game Experience" and although you won't necessarily get a chance to call any plays, the gig sounds pretty sweet:
Prior to kick-off you will head over to the home team sidelines to watch the game. Throughout the game you will have the option to put on a headset and listen in as the coaches on the field communicate with the coaches in the press box. You will join the home team in the locker room during halftime and listen in on all of the halftime adjustments. You will return to the sidelines for 2nd half action. Following the final whistle you will join the home team in their locker room for post game comments from the coaching staff which will mark the conclusion of this Ultimate Spring Football Game Experience.
All this, of course, assumes you have the necessary cheddar on-hand to win the auction. As of the time of this writing, the leading bid was already up to $1425.
If you do have a couple of extra grand lying around, be sure to get your bid in as the auction ends on April 9th. Which would leave you about 10 days to find that perfect sweater vest.