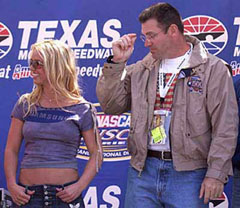 As most of you have probably already heard, Vernon Gholston put up Gun Show-like numbers at the combine yesterday. During the strength test, he pressed the standard 225lbs 37 times, tying him for the lead with Jake Long (ah.. memories).
The 37 repetitions, while impressive, are 8 short of the combine record of 45 held by UTEP's Leif Larson (2000) and Ohio State's Mike Kudla (2006). I'm not getting too upset over his "shortcoming" because despite their bench press skills, both Larson and Kudla are currently employed in jobs that do not require shoulder pads.
Gholston is thought to be the #2 defensive end in the draft, behind Howie's son Chris Long, who did not perform the bench press test at the combine, instead opting to wait to press until Virginia's pro day on March 18.
In completely unrelated news, we learn that the Gun Show is a bit of a pro wrestling fan, which had a little something to do with him getting a late start on the gridiron and also may explain why he looks like the black Ultimate Warrior.
---
On the compliance front, the Yahoo! Sports article from last week has spurred the Buckeye athletic department to take a closer look at high school fundraisers that the Vest takes part in.
Tim May of The Dispatch caught up with OSU's associate athletic director for compliance, Doug Archie and while Tressel appears to be in the clear for the La Salle event next month, the university will work harder to ensure all CYAs are in place:
"What's going to happen now is we are going to look for ways to communicate better with those schools and organizations that request our people as speakers," OSU spokesman Dan Wallenberg said.
What's amazing to me is that Tressel receives about five requests per day to speak. That's very similar to my life except the only thing asking me to speak are this blog editor and the Hennifer Lopez drawing on my hand.
---
The Justin Zwick experiment with the Columbus Destroyers sure didn't last long. A little over two weeks after signing with the AFL squad, Zwick was released to meet league roster size requirements.
Despite his lack of success on the field since graduating from Massillon Washington in 2003, he's always carried himself in a classy fashion. Here's hoping he'll see some more media work -- or at least hook up with Karsatos. He'll get you rich, son!