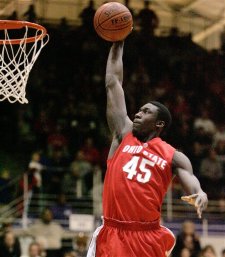 Ohio State got back on the winning track against lowly Northwestern 65-47 Wednesday night, putting four players in double figures and giving Thad Matta his 200th career victory (200-61). After a sluggish first half, Ohio State finally decided to look inside and outscored Northwestern 36-22 in the second, with 17 of those points coming from the Big Boys.
Northwestern's defense lived up to its conference worst hype, allowing Ohio State to shoot 53 percent from the floor and 41 percent from downtown. While it was a good shooting night for Thad's team, it was just as disturbing to see the sloppy play leading to 18 turnovers.
The first half saw two teams who are offensively challenged exchange turnovers and random buckets, accounting for 8 lead changes and a combined 21 turnovers. The Buckeyes made 48 percent of their shots in the first, including 4-11 from deep and committed 10 miscues. Thankfully their defense continues to impress as they held Northwestern to 43 percent shooting and 11 turnovers, closing out the half on an 11-6 run over the last nine minutes.
Koufos and Hunter took advantage of their size and combined for 13 points on 6-7 shooting, while also grabbing 10 rebounds in the first half. Butler lead Ohio State at half with nine points (all on threes), but Lighty and Turner combined to shoot 2-8.
Ohio State came into this game as one of the top defensive teams nationally and held their 20th straight opponent to under 45 percent shooting. Thad's team held the hapless Cats to 37 percent shooting and leading scorer Kevin Coble, to four points on 2-7 from the floor. The Buckeyes used a 17-2 run late in the second to pull away from Northwestern.
Kosta Koufos continued his recent strong play recording his fifth double-double of the season with 16 points and 11 rebounds. I think Koufos is an 11W reader, as he has scored 10+ points for the seventh straight game since Chris wrote this. His running mate Othello Hunter finally got a chance to touch the rock, making 6 of 8 shots for 14 points and five rebounds. Hunter has taken 7 or more shots in only five conference games. I swear if he would get more looks, he could be all-conference.
Even though he scored only three points in the second, Jamar Butler had a banner night. Dr. Smooth became the all time leader in assists at Ohio State with 517, eclipsing Kelvin Ransey's 28 year old mark. Jamar finished with 12 points and 6 assists, but seemed to continue a recent trend of being careless with the ball, causing concern of burnout. Butler and Matt Terwilliger also tied the mark for most wins in an Ohio State career with 98 victories and will look to break the 45 year old mark Sunday at Ann Arbor.
Evan Turner seemed to be over his recent wrist problems starting after half, hitting all three of his shots and finishing the game with 10 points, 8 rebounds, 7 assists and 5 turnovers. Jon Diebler also continued his latest shooting streak by hitting 3 of 6 from deep and finishing with nine points. These two are going to be the key in any type of late season run Ohio State may have, because it definitely is not going to come from David Lighty, who finished with 2 points and 4 turnovers.
Ohio State will get a chance to go 2-0 on this mini road trip on Sunday. A win at Michigan would push the Bucks to 9-4 within conference play and creep them closer to a possible four seed in the Big Ten tourney. I still haven't given up on tournament hopes, in Thad I trust and this team may just peak a bit later than normal.