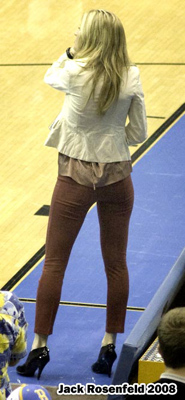 Erin Andrews will be in town Tuesday to cover the OSU/Michigan tilt and SBB treats us to a little preview.
Little Miss Sexy brought out the Krylon pants in LA and while the climate in Columbus is a bit different, it is supposed to be 63 degrees Tuesday so maybe we'll get an ESPN issued mini.
Some blogs appear to have grown tired of the Erin phenomenon so let's make it clear 11W isn't one of those.
Her impact on the college game is felt in strange ways. MLive recently noted she's just one reason the Big Ten Network blows in addition to showing how the opportunity to get an EA postgame interview inspires players to succeed on the court.
Erin's even gone virtual as the sideline reporter on EA Sports' March Madness 2008. Her main downfall? She's a Joakim Noah fan. I know she went to Florida but that's no excuse.
Anyway, if you go the game Tuesday night, don't forget your binoculars and maybe your digital camera. You could end up famous like Jim Davidson.