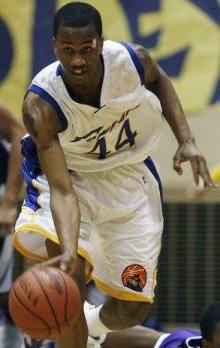 Here Comes the Cavalry?
2008 incoming freshman hoopsters William Buford and BJ Mullens have been selected as McDonald's All-Americans and will compete in the annual classic on March 26th in Milwaukee (ESPN 9:30).
Former Buckeye commit Luke Babbitt was also selected, joining Mullens on the West squad with Buford playing for the East.
Buford is only the second Toledo baller to garner McDonald's All-American status joining the great Jim Jackson. The 6'5" shooting guard is averaging 22.9 points, 11.1 rebounds and 5.6 assists heading into state tournament action. My crystal ball says he'll be chewing up more of Lighty's minutes next fall.
Mullens has been lighting up the scoreboard all season including a 62 point effort back in late January. If Koufos stays, the tandem will give OSU a pair of honky 7 footers with contrasting games which should spell trouble for opposing defenses.
If Noopy Crater can come in and handle the point, the 2008 team will be extremely young but more dangerous than the 2007 model. The starting lineup could very easily be comprised of 3 sophomores (Turner, Deebs, Koufos) and two freshmen (Mullens, Crater).
---
Lid Officially Closed on the Toilet Known as the Jim O'Brien Saga
Lingering like a floater with gum in it the last 4 years, the Jim O'Brien scandal is finally flushed. Unfortunately, the final chapter will show the Ohio Supreme Court voted 5-2 against the university's appeal of an earlier ruling awarding O'Brien 2.46 million for wrongful termination.
Even though O'Brien is free to find a coaching job effective March 10th following a recent NCAA decision reducing the length of his sideline ban, OB isn't quite sure if he'll attempt to get back in the game.
He certainly won't have to with 2.4 million Bucks in his bank account.