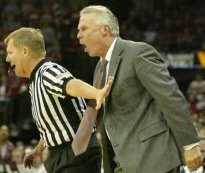 OPPONENT: Wisconsin arrives into Columbus tied for first in the conference, winning 6 of their last 7, including three straight. This is a typical Wisconsin team under Bo Ryan, unselfish play combined with making the most of their opponents mistakes has lead to the Badgers winning eight of their twelve conference games by at least 10 points.
Whisky is second in the Big Ten and 13th nationally in defensive FG percentage at 38.8 and rank second nationally in points given up per game with just over 55. Bo's team has had 8 different players lead them in scoring this year and are the only Big Ten team to have four players averaging double digits during conference play. Wisconsin comes in shooting 45 percent from the floor, 70 percent from the stripe and 35 percent from deep.
Bo Ryan is starting to get his due credit as one of the best coaches in the country. Since his arrival in Madison he has lead Wisconsin to 20 wins season in five of his first six years, the school had just four 20 win seasons in their previous 103 years.
His teams have won the most conference games (80) since 2001-2002 and his .727 winning percentage ranks best all time for Big Ten coaches. Oddly enough, he has the same overall winning percentage for his career (547-162), which ranks him behind only Roy Williams amongst active coaches with 500 or more victories. We know what to expect from Wisconsin and if the Buckeyes show their soft side, the Badgers will be ready to burst the Buckeyes bubble.
KEY PLAYERS: As mentioned, Wisconsin has four players averaging double digits in conference play, with Marcus Landry leading the way at 12.4 points per contest. The 6'7" junior does most of his work from inside the arc, shooting 47 percent from the floor and an impressive 80 percent from the line. He is also one of three Badgers grabbing more than five boards a game in the conference at 5.4 per.
Behind Landry is Brian Butch at 11.4 points per game. You might remember Butch from his horrific fall last year in Columbus, causing his elbow to dislocate. The 6'11" senior has recovered fully and is second on the team with 5.7 rebounds a contest. He has made 10 of his last 17 threeballs and needs just 8 points for 1,000 in his career.
Trevon Hughes and Michael Flowers are the other two, scoring 10.7 and 10.2 respectively. Hughes is a 6'0" sophomore guard who also leads the team in assists (2.4) and steals (2.2) within conference play. Flowers is a 6'3" senior who does it all for his team, averaging over 4 rebounds, 2 assists and 1.5 steals in league play. He also leads this team in shooting within the conference, connecting on 49 percent overall and 44 percent from deep.
The 6'7" junior, Joe Krabbenhoft will round out the starting five. He is scoring 7.2 points in league play, leading the team with almost 7 caroms and is second in assists with 2.3 per game. Jason Bohannon might be the best sixth man in the conference. The 6'2" sophomore has averaged 14.5 points over his last four games and poured in a career high 18 against Indiana a few games ago, all on three pointers. He has made 33 straight free throws and 39 of 41 in conference play.
Jon Leuer and Greg Stiemsma should see about 10 minutes each off the bench. Leuer is a 6'10" freshman and Stiemsma is a 6'11" senior, so they can bring multiple defenders at Koufos. Stiemsma is tied for the team lead in blocks within the conference.
NOTES: The Badgers are 24-8 in their last 32 one possession games... Wisconsin has made 66 of 80 free throws (83 percent) in the last 4 minutes of conference games... Bucky is 52-10 over the last two seasons, ranking them sixth nationally... Madison is one of the coolest cities I have visited, a visit there should be on your Bucket List... This is the only time Wisconsin and Ohio State play this year, after three epic battles last year.
---
BUCKEYE BREAKDOWN: This is it, Ohio State enters the stretch run after a much needed week off. The WWL still has Ohio State in the tournament as an 11 seed, but the next five games will ultimately decide on whether the Bucks go dancing or not. I think winning 3 of the next 5 and at least one win in the conference tourney will put Ohio State in the NCAA.
OSU has lost three of their last five, with bad losses at Iowa and Michigan. Ohio State has scored 70 points in only one of their last 6 and the inconsistent scoring that has plagued them all year is still a major concern. Surprisingly, the Buckeyes are third in the conference with 45.8 shooting during league play and still rank first in FG defense at 37.8 percent.
Ohio State's rebounding has improved during conference play, as they rank third with a +2.5 margin. This is going to be a key aspect of this final run, if they can limit the number of shots the opposition has, they should be able to pull off a tournament bid.
It will be interesting to see if Thad added some new wrinkles during the lay off. The 2-2-1 press has been ineffective this season and has lead to many open looks from deep. Wisconsin takes care of the ball and shoots well from deep, so another lackluster press attempt will spell doom.
KEY PLAYERS: Which Kosta Koufos will show up today? The game against Wisconsin last year in Columbus resembled a football game and this year will be no different. I have mentioned the increased emotion and toughness of late, but Kosta scored only 4 points and grabbed 4 rebounds against Michigan State and he let D.J. White control the inside. Kosta has recorded two straight double-doubles and has scored ten or more points in 9 consecutive games. He can not let Whisky take him out of this game.
I don't think anyone needed the week off more than Jamar Butler. He has played all 40 minutes in 5 of his last 6 games and rumblings of wearing down have popped up among Buckeye Nation. The Lima Pimp still ranks fourth at 14.8 points in conference play and is 13th nationally with 6.3 assists per game. It troubles me that he has not gone to the charity stripe in his last four games, but don't be shocked if he has a stellar game.
Whatever ailed Evan Turner recently seems to be gone. The freshman from Chicago recorded his second double-double of the year against Michigan, going for 16 points and 11 rebounds. Over the last two games, he has averaged 13 points, 9.5 boards and 6.5 assists. He ranks 8th in the Big Ten, shooting 51 percent in conference play, but still leads this team with 2.6 turnovers a game.
Another huge key to Ohio State's stretch run will be the play of Othello Hunter, David Lighty and Jon Diebler. I don't know what has happened to D-Light lately. He has more turnovers (7) than points (6), rebounds (5) and assists (6) over his last three games. Diebler has actually played well lately averaging almost 12 points a game over the last four and taking Lighty's minutes away from him. Buckeye fans have waited all year for this type of consistent scoring from Threebler, let's hope he can keep it going for this stretch run. Hunter must stay out of foul trouble Sunday, his inside presence will be much needed against the trees that Wisconsin will run at OSU.
NOTES: Ohio State ran practice all week without calling fouls... Ohio State leads the conference in home attendance, but the empty seats behind the student sections have become a concern... Matta is 3-5 against Bo Ryan while at Ohio State... Mike Conley plays against LeBron right after this game at 6pm in Cleveland (Fox Sports Ohio).