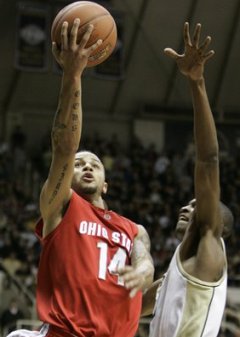 I guess it was bound to happen sooner or later.
The upstart Boilers, led by 4.9 ppg game stud Marcus Green's career high 22 points, outscored OSU by 14 in the second half to turn a 36-29 halftime deficit into a 75-68 victory.
The loss ended the Buckeyes 19 game winning streak over Big Ten foes dating back to a 72-69 loss against Wisconsin on January 9, 2006.
Once again, Jamar Butler led the way for OSU with 26 points (6/11 3FG), 5 dimes and 4 boards while Kosta Koufos played his most physical game to date notching 12 points and 9 rebounds.
Butler was the difference in the first half scoring OSU's first 12 points on 4 triples before hitting back to back field goals around the four minute mark to finish with 16 of the Buckeyes 36 points.
The lead at intermission quickly evaporated as Purdue opened the second half on a 8-0 run before OSU weathered the storm behind 3 FG's from Koufos over the next 4 minutes before Butler hit back to back threes giving the Bucks a 52-51 lead with 8:11 to play.
With Purdue starting take control at 62-58, the refs continued their horrible performance whistling Hunter for an illegal pick at the top of key. Hunter then lost his cool resulting in a T and once the dust settled, OSU trailed 66-58 with just 2:42 left.
The Buckeyes tried to come back forcing Purdue to the stripe with quick fouls time after time but it wasn't enough.
While the refs (Rick Hartzell in particular) did their part to ensure a Buckeye defeat, the bigger problems included 20 turnovers, shaky second half defense and a lack of firepower to support Butler. In this vain, David Lighty (2/12, 6pts) and Jon Diebler (0/7, 0pts) were particularly guilty.
Those points aside, credit Matt Painter's squad for turning up the D in the second half. Painter's got a good enough unit to expect to protect home court on most nights and that's exactly what they did.