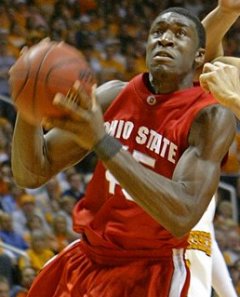 In a game of runs, Tennessee had the biggest as they unleashed a 25-6 haymaker over a span of 9 minutes to turn a 49-43 hole into a 68-55 lead before holding on to capture a 74-69 decision over Ohio State this afternoon in Thompson-Boling Arena.
Showing no quit, the Buckeyes responded with a frantic 14-4 run behind Evan Turner and Othello Hunter to close to 72-69 with 1:52 left but the Buckeyes wouldn't score again missing 3 threes, including 2 by 'Arctic Jon' Diebler, en route to their 3rd straight loss. The losing streak is tied for the longest in the Thad Matta era.
Once again, OSU started out in zombie mode with 5 turnovers in their first 10 possessions spotting the Vols a 12-2 run and a 16-6 lead before finally settling in led by Turner and Hunter.
The duo combined for 18 points and 16 rebounds willing the cold shooting Buckeyes to trail just 33-28 at intermission. Hunter's inspired play included 3 blocks and 2 delicious dimes to give the Bucks a jolt of confidence while Turner compensated for Koufos' early disappearing act with 10 rebounds on his way to a career high of 13 (depending on whether you believe the box score or the play-by-play).
Despite trailing throughout the half, the Buckeyes didn't resort to launching nothing but threes (0/7), instead using penetration and backcutting to cash in at the free throw line, hitting 12 of 14.
Just like the loss to Sparty on Tuesday, the Buckeyes started the second half on fire posting an 18-6 run fueled by 10 points from some kid named Kosta Koufos to take a 46-39 lead at the 15:54 mark before Tennessee's aforementioned 25-6 blitz. Koufos scored all 13 of his points in the final 20 minutes continuing his season long inconsistent and soft performance.
The double-doubles by Hunter (17pt, 14reb) and Turner (21pt, 13reb) were complemented by Koufos' 13 and a 10 point, 5 rebound effort from David Lighty. The balanced scoring from the starters was sorely needed as Jamar Butler was held to just 8 points (2/10 FG, 1/7 3FG) although he dished out 7 dimes.
As for the OSU bench (basically Turd and Diebs), they were held was to zero points and 4 rebounds while the Vol bench racked up 26 points, 17 boards and 13 assists. Diebler's 0'fer was his second in three games pushing his cold shooting streak to 2/24 in the last 4 games. The kid is known to be notoriously streaky but you have to wonder if Matta will soon change his sub pattern giving Wallace a shot and/or more minutes to PJ Hill.
Although a loss is a loss, there were some positives in today's tilt. For one, Turner showed again that he's bound for stardom. He has stat-stuffer ability committing just 2 turnovers along with 10 boards. Look out once he fully matures and expands his basketball IQ.
I was also impressed with the Buckeyes' ability to keep it close in the face of a 2/20 effort from long range. They made a point of looking to drive creating 22 FTA's building on the 16 and 24 trips earned against Sparty and the Boilers.
Ohio State will look to get back on track Tuesday night against the Fighting Illini, whom OSU defeated 74-58 kicking off the conference slate back on January 3rd.