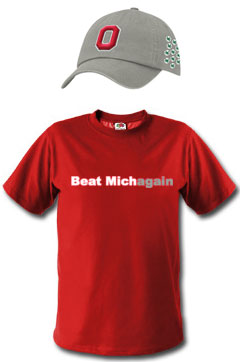 Well, you knew we wouldn't pass on this one. We're offering our biggest prize to date this time to the lucky fool that correctly predicts the score of the BCS Championship. The booty includes:
Two (2) t-shirts of your choice from the 11W store
One (1) Official BCS Championship Game Program
One (1) 2007 OSU Football Highlights DVD
This time there's a twist. The Buckeyes MUST win the game for there to be a winner. There's just no way we're awarding prizes if the Bucks flame out again. Not that we expect that, but we didn't necessarily expect the Wolverines to wax the Gators, either.
Please stick to the following rules:
Leave only 1 prediction — duplicate predictions will disqualify all of your entries
Don't pick a score someone has already settled on — first one to the score is the official entrant for that score
Leave your email address in the comment form
The contest closes at kickoff
Yes, I know Lesko is missing part of a finger on his right hand -- that's the 11W Photoshop touch.
Good luck!