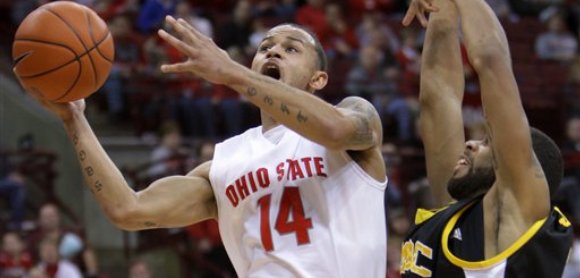 Since I don't have BTN, I ventured out to the Schott yesterday morning expecting to see an uneventful basketball game get overshadowed by the footballers halftime ceremony in which the team presented Gene Smith with the Big Ten Championship trophy.
Apparently, the Retrievers of Maryland - Baltimore County didn't get the memo. Mouthy marksman Ray Barbosa scored a game high 32 points, hitting 8 of UMBC's school record 17 triples bringing the Retrievers back from a 17 point deficit before finally falling 92-83 to Ohio State.
The lack of defensive intensity certainly contributed to UMBC's record setting day as OSU forced just 5 turnovers and got outscored 46-43 in the second half. Of course, the fact UMBC played 4 guards for large stretches in the 2nd half also contributed to the low TO count as Matta abandoned the full court zone trap after OSU built a 47-39 halftime lead.
There was plenty of good news, however, as the Buckeyes had their way with UMBC at the offensive end and on the glass.
Jamar Butler was simply unstoppable with 22 points and a career high 12 dimes while Kosta Koufos recorded 12 points and 12 boards and Othello Hunter added 13 points and 10 boards. The trio's double-double onslaught marked just the 15th time in school history that 3 players have had double-double's in the same game and was the first occurence since 30 years ago to the day that Herb Williams, Jim Ellinghausen and Ken Page all accomplished the feat against LaSalle.
Joining those three in double figures were Evan Turner and Jon Diebler while David Lighty finished with 9 points. Turner's 17 point game was good for a career high and even more impressive was that he got to the line 12 times, making 10, sparking OSU to a stellar 26/31 (84%) from the stripe.
Diebler kept his confidence on the rise heading into conference play making 5/9 threes to finish with 15 points. Diebler is now 14/23 from downtown in his last 4 games and since becoming a reserve his points per game average has grown from 6.6 to 10.6 per contest.
While the UMBC three point onslaught was not fun to watch, I'm content to give the Buckeye D a little slack considering they've held opponent FG shooting in check for much of the year and outrebounded UMBC 41-30.
More importantly, the offense was more aggressive driving the lane creating the season best 31 FTA's and the ball movement was the best its been all season allowing everyone some open looks. The shots won't come as easy next Thursday in Champaign but at least the confidence of the players is where it needs to be as conference play begins.