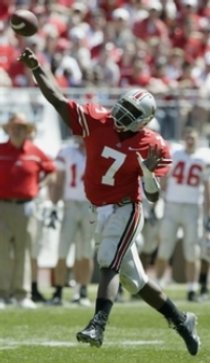 Coach Tressel announced yesterday that Antonio Henton has replaced Rob Schoenhoft as the backup quarterback, at least for the championship game.
Horny Henton still has plenty of work to do with regard to the passing game but his running skills looked good early and that hasn't changed according to DL Doug Worthington:
"He has been juking cats in practice. He had a couple of good runs today. He is looking tremendous."
I'm glad to hear Henton's coming along but I agree with Brian Hartline's assessment of the situation:
"It's a major move but I think it wouldn't really matter if Boeckman goes down anyway we might be in some trouble. Both guys are going to be good but they're not ready yet."
I wonder if Henton might get a snap or two on plays designed especially for the LSU defense? Another long term consideration (credit reader Harold) could be that Tressel needs to free up some room on the QB depth chart for the arrival of
Terelle Pryor
.
As for "Schoenhop" (inspired by reader Zach), he's helping out at TE on the scout team. Nobody is saying whether or not this is a permanent thing but based on his few opportunities at QB, I don't think anyone is worried about losing Schoenhop to scout team duties.