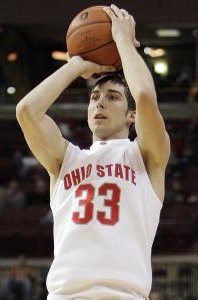 Opponent: After taking a well deserved week long Christmas break, the basketball Buckeyes return to the hardwood tomorrow against the Retrievers of University of Maryland-Baltimore County. UMBC won 6 of their first 7 games this year, but have lost 3 of their last 5, including whippings at West Virginia and Wichita State. Their 8-4 start is the best in school history and Ohio State is their last NC opponent before opening up America East conference play, where they are picked to finish fifth.
The Retrievers are only going to run 6-7 players at Ohio State, so their lack of depth should hurt them as the game goes on. UMBC is scoring 76.3 points a game, while shooting only 42.8 percent from the floor. Get this team to shoot from 3land and their percentage drops slightly to 39.5. They have shown an ability to get to the charity strip though, averaging over 22 attempts per game, making a decent 78 percent of them.
UMBC will not bring much size into the Schott on Saturday, but they should give OSU a run for their money on the glass. The Retrievers are fetching over 36 caroms a game and have outrebounded their opponents by a slight +1.5 margin. They also take care of the ball, turning it over only 11 times a game, while dishing out 15 assists per contest.
Key Players: UMBC has 4 scorers averaging double digits, lead by Brian Hodges (#25 6'3" Sr.), who is pouring in 17.1 points a game. Hodges was the nation's highest scoring 6th man last year, at 16.5 a game and will not only shoot the three (29-71), but will also get to the foul line, attempting over 6 per game. He is 8th in career scoring at UMBC and 4th all-time in career 3 pointers made.
The Doggies have benefited from a couple of transfers this year, in Ray Barbosa (#34 6'2" Sr.) and Cavell Johnson (#22 6'8" Sr.), both coming over from James Madison after the 2006 season. Barbosa comes in scoring 15.9 points a game and was a 1,000 point scorer in his 3 years at JMU, hitting 160 3pointers in that span. Ray-Ray will also contribute close to 5 boards and 2.5 assists per game.
Cavell Johnson looks like a player, scoring 14.3 points, grabbing 8.7 rebounds and blocking 21 shots thus far. He has been named the conference player of the week twice so far and was named team captain before he played a minute for the Poodles. Cavell had 19 points and a career high 15 boards his last game against Hampton. He will not be a threat from downtown, but his ability to get offensive rebounds might give OSU fits.
Darryl Proctor (#32 6'4" Jr.) is the other double digit scorer at 14.1 points a game. Despite his size, Proctor is second on the team in rebounding at 7.3 per tilt, he also leads the team in FG's made (67-135) and shooting at 49.6 percent. My other brother Darryl is a transfer from Coppin St., arriving at UMBC after the 2006 season.
Jay Green (#2 5'8" Jr.) is the last starter and sets the table for this team, coming in with an impressive 7.1 assists per game. He scores 8.8 a game and led the conference in assists last year. Ohio State's zone will have to stop any possible penetration from Green, causing disruptions in their offense and another low shooting percentage.
Matt Spadafora (#21 6'5" So.) and Justin Fry (#20 6'9" So.) will see the most significant time off the bench, averaging just over 8 points and 5.5 rebounds between the two of them.
Notes: UMBC campus is located 15 minutes from Baltimore's inner harbor and 30 minutes from Washington D.C.... There are just over 12,000 students enrolled at UMBC, with a cost of $17,000+ per year... Randy Monroe is 41-61 in his fourth year as head coach.
Buckeye Breakdown: I officially give up on calling for Thad's man to man defense, as this zone he has adopted smothers the opposition and simply holds them to shitty shooting. Ohio State has allowed only two teams to shoot above 40 percent, Texas A&M (54.7) and Butler (41.1) and each of their last four foes have shot less than 37 percent. On the season Ohio State has held the other team to 37 percent shooting from the field and an incredible 27.1 percent from 3land.
Conversely, Ohio State has shot 52.6 percent and won by an average of 20.5 points their last four games. I mentioned before this stretch of games that Thad knew exactly what he was doing when he made this schedule, it is the same path Tom Izzo took when he was rebuilding the Michigan State program. The Buckeyes previous competition was a huge factor in the demolishing of Florida and that same experience is going to help them as they enter conference play next week.
Ohio State is holding steady at 46 percent shooting and come in averaging 68.4 points per contest. They are slowing increasing their rebounding margin, but +1.1 is not going to cut it within the conference. This young Buckeye team must also continue to work on reducing their turnovers, as they only hold a 1.2 assists to turnover ratio.
This Buckeye team has hit over 50 percent of their threes the last 3 games and have raised their overall season total to 37.8 percent (84-222). They have done a better job of moving themselves and the ball around on offense recently, but OSU's bigs have to learn the technique of holding an opponent off while receiving a post entry pass. I still think Ohio State has to lean more on inside scoring if they are going to make another run at a conference title.
Key Players: Before Christmas, I asked for a few presents from this current edition of Buckeye hoops and while they won all four games, none of my wishes came through, but the kids came close.
There is no doubt David Lighty has stepped up and is helping lead this team the last four games, bumping his season averages up to 10.1 points, 4.3 rebounds and 3.2 assists per ball game. D-Light has shown better control when driving the lane and his jumper has looked smooth and confident, allowing him average 9.5 points a game over the last four.
Diebler has found his stroke and I have a feeling it is going to be around for a while. He has hit 9 out of his last 14 three pointers and has scored 29 points his last three games. He has raised his 3ball shooting to 27 percent, deciding not to fade away as much on his jumpers.
Jamar Butler continues to be steady eddy, hitting 12 of his last 24 threes, dishing out 25 assists and scoring 12 a game over the last four. Ohio State has not seen a three point threat like Jamar in my lifetime, but I still think he needs to drive to the hoop a bit more, similar to how he started the season.
I think Kosta Koufos has really stepped up over the last three, averaging 18 points and almost 7 boards. I know I have called for him to be stronger down low, but he has displayed his outside touch the last couple of games and he seems to be more comfortable playing college ball.
Othello Hunter and Matt Terwilliger seem to be nothing more than role players and any game they score a combined 15 points and snag 10 rebounds, Ohio State should win. I have seen improvement recently, but Thad needs these two to post those types of numbers consistently.
Now that there is one game before conference play, what are some aspects Ohio State needs to work on from your view point? What player(s) have impressed you thus far? Let me know what you think, I know you are not doing any work today.
Notes: Jamar Butler has become the school's all time leader in 3point attempts... Ohio State is 80-4 when leading with 5 minutes left under Thad... The game will be televised on the Big Ten Network... Jim Tressel and the boys will be recognized at half time.