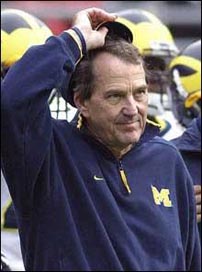 So, here we are. Michigan week. The 2007 edition of the greatest rivalry in sports definitely lacks the hype of the epic battle waged last season in Columbus, especially when you consider the fact that the two schools are both entering The Game on the heels of a loss -- something that hasn't happened since 1959.
Michigan, of course, was the favorite to win the league heading into the season. And that dream lasted all of about 59 minutes.
The Buckeyes, on the other hand, were considered to be rebuilding, but after the team raced out to a 10-0 record and a #1 ranking in the BCS, fans had much higher hopes until the Illini came to town last weekend.
Not quite last year's battle of the unbeatens with a national championship trip on the line. But, it's The Game. It's moves faster, hits harder and has the intensity of no other game on the schedule. The Game is what these kids go to these schools to play in.
There are the gold pants, with seniors like Kirk Barton going for his fourth pair of what was so elusive only a decade ago.
Tale of the Tape

| OHIO STATE | OFFENSE | MICHIGAN |
| --- | --- | --- |
| 33.6 (30th) | SCORING | 28.2 (53rd) |
| 407.8 (46th) | TOTAL OFFENSE | 399.2 (53rd) |
| 198.7 (24th) | RUSHING | 179.8 (35th) |
| 209.1 (74th) | PASSING | 219.4 (65th) |
| OHIO STATE | DEFENSE | MICHIGAN |
| 11.4 (1st) | SCORING | 20.8 (27th) |
| 237.5 (2nd) | TOTAL DEFENSE | 335.1 (29th) |
| 82.7 (4th) | RUSHING | 143.6 (54th) |
| 154.7 (2nd) | PASSING | 191.5 (20th) |
There are the talented Wolverine triplets that passed on NFL loot to come back for their senior seasons and one more run at the Buckeyes, the team they've never beaten. Hart put this best:
"How can I go down as one of the best running backs in Michigan history if I haven't beaten Ohio State? You just can't do that."
There's the rampant speculation that this will be Carr's final game at the Big House and his chance to go out a winner against a nemesis that has pretty much owned him since he arrived in Columbus.
And then there's the outright Big Ten title on the line -- the 43rd time that The Game will determine the winner of the conference. As hard as it is to believe, the Buckeyes have only been to Pasadena once in the last 22 years (that's what JHC's Michigan troubles and Tressel's BCS run will do to Rose Bowl plans).
If you're still having trouble getting up for it, consider the quote Rex Kern shared on the HBO documentary, of a tearful Woody prior to the 1970 battle:
"Don't you know who we play this week? Don't you know who it is? My God, it's Michigan! It's Miiiiichigan!"
Amen.
---
Opponent
After their disastrous start to the season, the Wolverines seemed to have righted the ship by reeling off eight consecutive victories. They were climbing back up the rankings and BCS murmurs were starting to emanate from A2, but a setback last week in Madison killed the march.
Still, they have a lot riding on the outcome this weekend. Should they win, they can send Carr, Hart, Long and Henne out with an outright Big Ten title. By sitting Henne and Hart against Wisconsin, Carr essentially traded a win for a better shot of getting over on the Buckeyes.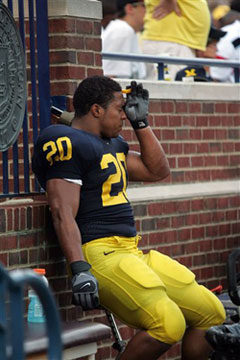 Though Carr and the press have done their best to tease us with "will they or won't they play" stories all week, both Henne and Hart will play. You'll see Beth Burns flirting with guys before you'll see those two miss this game.
Hart, better known around here as H20-3, has already missed a few games this season and was completely held out of last week's game to rest his bum ankle. I don't need to say it, but he's a warrior and has had success against the Buckeyes in the past (3 touchdowns last year).
As much as he talked after the Wolverine's defeat in Columbus last season, he knows he has to bring it. Injured or not, he will give everything he has for 60 minutes on Saturday and stopping him will be a tall order for a suddenly run-weak Buckeye defense. No team has held Hart to under 100 yards this season.
Henne is a go as well, but may be more limited in what he can do or how long he plays due to the nature of his injury (shoulder). Last week against the Badgers, he was limited to two series worth of action before leaving the game after throwing a 1st quarter interception.
Should Henne's partially separated shoulder send him to the bench, Michigan will turn to freshman Ryan Mallet (#15). Despite decent numbers for a frosh, Mallet has earned the wrath of Michigan fans for his play, including some shaky work against the Badgers last weekend. The fans aren't the only ones upset -- playmaker Mario Manningham, frustrated with Mallet's play, was filmed engaging in a sideline confrontation.
We're going to take Manningham's side in that one considering he consistently makes plays that few other wide receivers in the college game can make. The junior from Warren will probably be playing in his last game at the Big House and his ability on the edge keeps defenses from loading up on Hart. He's averaging over 130 yards receiving and has a very Nintendo-like 10 touchdowns over his past six games. That's good.
Senior Adrian Arrington (#16) is having a decent season in his own right (716 yards and 6 touchdowns) and will receive looks as they Buckeye attempt to contain Manningham.
On the line, the Wolverines have future 1st-round NFL draft pick Jake Long (#77) holding down one side. Despite being a pretty good run-blocking group, the Michigan line has given up its fair share of sacks this season. After being neutralized by scheme last weekend, the Buckeyes will be anxious to get back after it a little on the pass rush and Michigan's two rather stationary quarterbacks could be in for a little bit of trouble.
The Wolverine defense is lead by yet two more seniors in linebacker Shawn Crable (#2) and Jamar Adams (#22). If you're keeping score and thankfully the HBO doc did a good job of this, Crable (Massillon) is yet another Ohio product, but considering his helmet shot on Smith last season and the way he's been racking up roughing penalties as of late, he may just be one the Bucks didn't want.
In the trenches, junior Terrance Taylor (#67) has been coming on as of late and has helped Michigan solidify their run defense. Crable and sophomore Brandon Graham (#55) are still the sack threats, but Taylor's ability to take on blockers frees them up to do their things.
Overall, the defense is not quite as stout as the unit put forth last season, but expect the home crowd to aid their effort.
Finally, there's the aforementioned Carr scenario. If his departure is, in fact, known within the organization, you can expect his kids to give everything they have for a guy that they seem to really care for. There's also something to be said for knowing it's one of your final few games. Perhaps the pressure isn't as great and you'll call a trick play (or two) or go for it on 4th down once or twice when you probably wouldn't if you were expecting to return for another season. Some may disagree, but I'd argue that there's a little less pressure for Carr if he's on his way out. Let loose. Have some fun. That kind of thing.
---
Notes: Michigan leads the all-time series against Ohio State, 57-40-6... Mike Hart needs 133 rushing yards to become the fourth back in Big Ten history with 5,000 career yards... has compiled a 17-8 mark against top 10 opponents and is 40-23 overall against nationally ranked teams... Carr's only blemishes against top 10 squads have come against Ohio State or in bowl games.
---
Buckeye Breakdown There's a part of me that believes the Buckeyes will be an angry bunch in Ann Arbor this weekend -- out to prove that last week's loss to the Illini was not indicative of their level of play. I still hold firm in my belief that this OSU team is a great squad and can play with any team in the nation. They were picked off by a good team playing a perfect game last weekend, after having previously blitzed the rest of their competition. I mean, no game was really close before the loss.
The players seem to understand the gravity of the situation. Hartline had this to say:
"After losing on Saturday, we all apologized to the seniors. Now, this is the Michigan game and it is make or break. This game can't get any more important than this."
Barton is probably a pretty angry dude right about now, but the best way to cheer him up would be a 4th win against the Wolverines.
I want to believe it will happen. I want to think that as bad as Boeckman looked last week and as bad as he's looked at times this season, he's still sporting a 10-1 career record as a starter. I keep thinking about the defense that manhandled opponents all season instead of the unit that couldn't get off the field during the 4th quarter Saturday.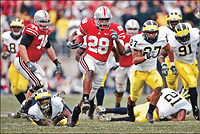 But, I have to admit, for the first time all season, I'm pretty worried heading into a game. There's no question which squad has the better talent, the better coach, the better schemes and gameplans -- all that. But there are also so many things working against the Buckeyes.
Carr, the Michigan seniors playing at home for the last time, the fact that OSU has had their number so many times as of late -- they've got to find that proverbial nut every now and then -- even the JHC managed to get a couple.
Throw in the fact that the Vest will need to do the motivational job of his life getting the Buckeyes ready to go after having their BCS hopes dashed last weekend and you have letdown stew boiling pretty hard.
Oh yeah. Don't forget about the three dinged-up running backs.
How effective will Beanie be? How well will the Buckeye run defense perform now that the book is out on how to run on them? What does it say that two defensive stars are questioning the gameplan used against Illinois? Has Todd discovered what double-coverage looks like yet?
That's a lot of "how's", "what's" and "ifs". Despite all of that, I think the Buckeyes pull through. If there's anything the last 6 years have shown us, it's that Lloyd Carr can not matchup with Jim Tressel in these games. The Bucks have their anti-Cooper and that will be the difference once again.
The Vest will have something special in store for the Wolverines, like he always does and the talent gap will provide the final edge for the margin of victory.
---
Notes: Ohio State has won 29 of its last 31 games... Eight OSU players are in the hunt for national postseason awards... Ohio State has scored on its opening drive in nine games this season, the last seven in a row.
---
Jason: OSU 23, Michigan 21
Chris: OSU 27, Michigan 17