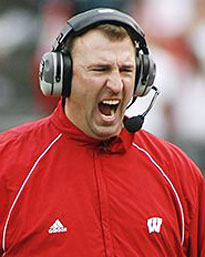 Fresh off a resounding victory in Happy Valley and the accompanying props from most of the college football punditry, Buckeye fan is feeling better than Alex Boone in an end zone. With Natty Lite and some Cheetos.
There's some "Why Not Boeckman" chatter for the Heisman and we've even gone so far as to -- gasp -- favorably compare the current crop of skill players with last year's set.
The offense is grooving like Rosie O'Donnell at 24-hour Ponderosa and the defense is still the nation's best. What's there to worry about?
That is exactly what to worry about.
For all but the past week of the season, the Buckeyes have been playing with a chip on their shoulders. But their newly gained respect could fuel the only thing capable of beating this team right now -- itself.
Tale of the Tape

| OHIO STATE | OFFENSE | WISCONSIN |
| --- | --- | --- |
| 34.6 (26th) | SCORING | 30.1 (46th) |
| 419.2 (38th) | TOTAL OFFENSE | 418.4 (40th) |
| 199.4 (24th) | RUSHING | 205.4 (21st) |
| 219.8 (66th) | PASSING | 213.0 (73rd) |
| OHIO STATE | DEFENSE | WISCONSIN |
| 8.9 (1st) | SCORING | 20.8 (34th) |
| 214.6 (1st) | TOTAL DEFENSE | 334.1 (33rd) |
| 70.9 (4th) | RUSHING | 141.1 (51st) |
| 143.7 (1nd) | PASSING | 193.0 (29th) |
In the Badgers, Ohio State will be getting a 7-2 squad that was the pre-season fave to win the conference. Their head coach is all of 37 years old, is a master of the rulebook and is the only active Big Ten coach with a better winning percentage than the Vest.
Did I mention that the Badgers also have history on their side? They've won the last three matchups in Columbus and 4 of the last 6 overall.
Tressel is a scratch-your-eyes-that-can't-be-true 1-3 against Wisconsin, his worst record against any Big Ten team and if that wasn't enough, Cris Carter's brother plays for the Badgers.
Even when Wisconsin was craptacular in the early to mid-eighties, they gave the Buckeyes fits. They haven't played in three years, but all I can remember from the Barry Alvarez squads is that they used to hurt Buckeyes and they liked to come back on OSU in the Shoe.
In the three most recent meetings in Columbus, the Buckeyes have squandered leads of 17-0 twice and in the last meeting, Ohio State lost an early 10-point lead before Anthony Davis and John Stocco got it going and put the Buckeyes away 24-13.
Luckily, outside of one dark night, Tressel has proven to be a fine motivator and his teams own the month of November. You can bet they'll be plenty of footage of the last three blown home leads looping through the WHAC and a chance to break Michigan's record of 19-straight conference victories should provide ample motivation.
---
Opponent
The Badgers started the season ranked #7 and got to as high as #5 in the polls before losing a tight one at Illinois four weeks ago. Not satisfied with that, they took a beating in Happy Valley the following week dropping to 5-2 and completely out of the polls.
Bucky bounced back the last two weeks thanks to home tilts Northern Illinois and Indiana and will be looking at this game as a chance to redeem a part of their season.
While Bielema has shown the ability to mix it up on offene a little more than his predecessor, Wisconsin has and will be about power football. Big descendents of Vikings, punching you in the mouth and trying to run over the top.
The engine behind the machine is sophomore tailback P.J. Hill (#35), a wrecking ball that is the reigning Big Ten freshman of the year after popping off for 1500+ last season. Hill is still considered doubtful for the game this weekend after sustaining a leg bruise against Indiana last weekend.
Seeing as how Hill's backup has po-po issues and can't leave state lines, the Badgers will have to turn to freshman Zach Brown (#30).
It's tempting to get cocky, but first consider that both Ron Dayne and Anthony Davis had success on the Buckeyes as freshman. You don't go to Wisconsin to tote the rock if you can't play.
You can bet that no matter whether Hill goes or not, Bielema will try to emulate some of Penn State's blocking schemes that saw the Nittany Lions become the first team to really have any type of success running the ball against the Silver Bullets. When you can hold Laurinaitis to 2 total tackles, you're doing something right.
Quarterback Tyler Donovan (#12), a first year starter, has had his moments this season. A decent thrower that can also do damage running the ball, he has scored 4 touchdowns (3 passing, 1 rushing) in the season opener against Washington State and hung 392 yards on Illinois in the failed comeback attempt.
He didn't throw an interception in his first 3 starts, but all of a sudden has 9 picks in his last 6 games. Good, but not great, he's prone to making mistakes when pressured and hit, like most all quarterbacks.
Junior tight end Travis Beckum (#9) is a favorite target due to his size (6-4/224) and hands. Outside of Purdue's Keller, he may be the best tight end the Buckeyes will face all season.
Freshman wideout Kyle Jefferson (#14), a former Glenville High track captain, has great size (6-5) and has been coming on strong as of late. In the last game the Badgers have seriously needed his services, he had 6 catches for 124 yards against Penn State. He's a skinny 6-5, though, and there's a chance that Heyward could snap him in half if he drops back into zone coverage.
Junior linebacker Jonathan Casillas (#2) and defensive end Matthew Shaughnessy (#92) may get all the pub on defense, but the Badgers secondary is outplaying the front seven. They harrassed Indiana's Kellen Lewis into a terrible outing last week and in the process snapped James Hardy's streak of a touchdown catch in 9 consecutive games, holding him to 4 catches for 17 yards.
Then again, Devin Thomas caught 4 balls for 111 yards earlier this year on this secondary, so there's no telling what we'll see. One thing that is certain, though is that the Badgers are having a lot of trouble stopping the run.
The Badgers surrendered 289 yards on the ground to Illinois, 241 to Michigan State and 221 to Penn State. Not very Badger-like at all.
Expect the Badgers to be ready to go. In Bielema, a former Hawkeye defensive lineman, they have a guy that's learned to dislike the Buckeyes from two different angles. Quite impressive. Don't be surprised to see a little bit of trickery -- this is the first huge game of his young career as a coach and he'd like nothing better than to stick it to the Buckeyes.
---
Notes: Wisconsin is 1-5 vs. OSU when the Buckeyes are ranked No. 1 with the lone victory coming on Oct. 31, 1942... In four of Wisconsin's last five wins over Ohio State, OSU has been the higher-ranked team... Neither team has scored more than 24 points in any of the last five meetings... One or both of the teams has been ranked in each of the last eight meetings... Wisconsin is 3-14 all-time against teams ranked No. 1 in the Associated Press poll.
---
Buckeye Breakdown
As good as the Buckeyes looked against Penn State last weekend, the staff had some things to teach from and keep the guys from getting too full of themselves. There was the 6 yards per carry given up to Nittany Lion running backs and yet another kickoff return for a touchdown for starters.
Some guys, like Little Animal and Kurt Coleman have a little something to prove after less than spectacular games last weekend. Do you think the 2 tackles last week motivated Laurinaitis a little bit during this week's practice?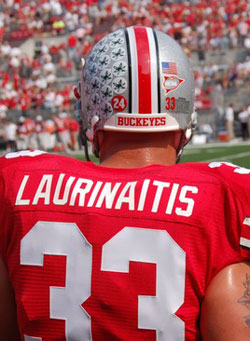 Taking a page from Illinois, Penn State and other schools that have had success against Wisconsin this season, the Buckeyes will look to run the ball whenever possible, yet still look to catch the Badger secondary in matchup problems when their safeties creep up to stop the run.
As well as the line is playing and as well as Beanie is running, there's no reason to believe the Buckeyes won't be able to control the clock and set the tempo for the game. If they can get on the board with a long early drive again, watch out (down Corso).
The key, as was the case last weekend, is to get out to an early lead that will force Wisconsin to abandon their rushing attack sooner than they'd like to.
Although it will be a letdown for the defense not to face Hill if he can't go, they'll be licking their chops for other reasons.
The Gun Show will be going against a freshman offensive tackle and the Buckeye secondary should have no problems locking down the banged-up and inexperienced Badger receiving corps.
Here's to hoping the team puts on another show. After all, Vince 2.0 will be watching from the stands.
---
Notes: Todd Boeckman has snuck up to 3rd in national pass efficiency rankings... Former lineman Bill Willis, a member of the 1942 national championship team, will be honored at halftime by having his #99 jersey retired... Offensive coordinator Jim Bollman was named coordinator of the week by Master Coaches... Ohio State leads the all-time series with a 50-17-5 mark. In games played in Columbus, the Buckeyes lead 27-7-3. The teams are deadlocked 5-5-1 over the last 11 meetings (back through
1980).
---
Jason: OSU 31, Wisconsin 6
Chris: OSU 27, Wisconsin 10