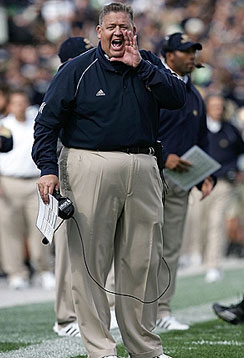 We've taken great pleasure in the demise of what was once Notre Dame football and the wisdom of the genius that calls plays in South Bend has certainly been well-documented. That doesn't mean we can't pile on a little more, right?
Well, we knew things were bad. The 1-8 record, dropping their first to Navy in 45 years, the list goes on. What we didn't realize, however, was that the Irish are dangerously close to losing their perch as the team with the 2nd most all-time victories.
Michigan is still miles away from everyone else, but the Irish have held the #2 spot on the win list since Archie was still sporting the fro.
With a Texas victory over Texas Tech this weekend and an Irish loss to Air Force (both probable according to Vegas), the Longhorns will catch the Irish. With two regular season games and a bowl game to go, it's all but a lock that the Horns will pass Notre Dame by the end of the season.
The Buckeyes, incidentally, are 5th and when you throw in the 10 wins this season, have moved within 18 of Nebraska for 4th place (4 wins this season).
It's a shame that coach Beau Bridges is on his way out in Lincoln, because with the way Tressel has been taking care of business lately, OSU would be looking to pass the Huskers in three to four years.