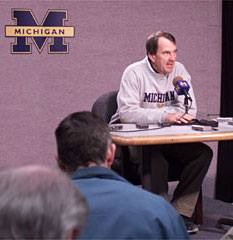 Wolverine fans were quick to gloat about the arrest of Antonio Henton last week. This week, karma once again bites them in the ass.
Michigan athletic director Bill Martin informed members of the media that the school may be penalized for using an ineligible player in the season's first four games.
Freshman safety Artis Chambers, used primarily on special teams, was cleared by the NCAA to play, but he hadn't been cleared by the Big Ten's slightly stricter standards. Because it's a conference eligibility issue, Michigan is potentially only facing discipline for the Penn State victory - which could be flipped to a defeat for the Wolverines depending on how the Big Ten rules on the issue.
Ever grumpy Lloyd Carr had this to say when asked about it after the Wolverines' victory over Northwestern Saturday:
"I'm not going to get into that, other than to say it's a real disappointment. That's all."