It wouldn't be a stretch to say the Buckeyes haven't played many big games this season. You could also make the argument that the team really hasn't been tested outside of one half in Seattle. That will all change Saturday night at Ross Ade Stadium.
With no disrespect to the head coach of the Washington Huskies, Joe Tiller is no Ty Willingham. Since arriving in West Lafayette prior to the 1997 season, Tiller has taken the Boilers to bowl games in 9 of his 10 seasons including the 2001 Rose Bowl after sharing the Big Ten conference title.
This is no small feat because Purdue pretty much served as the doormat of the Big Ten from the time Jim Everett left in 1985 to the time Tiller arrived. Try this one on: Tiller has more Big Ten victories than Joe Pa since his arrival.
After debuting with a 35-9 victory over Purdue in 2001, the Vest has gone 2-1 against Tiller since. I don't have to remind anyone of the 2002 victory, but some may have forgotten that the Buckeyes needed overtime at home to defeat Purdue the following season.
Tale of the Tape

| OHIO STATE | OFFENSE | PURDUE |
| --- | --- | --- |
| 35.8 (25th) | SCORING | 45.4 (8th) |
| 423.2 (41st) | TOTAL OFFENSE | 495.8 (10th) |
| 209.4 (19th) | RUSHING | 186.0 (35th) |
| 213.8 (72nd) | PASSING | 309.8 (14th) |
| OHIO STATE | DEFENSE | PURDUE |
| 7.2 (3rd) | SCORING | 20.4 (38th) |
| 197.6 (2nd) | TOTAL DEFENSE | 384.4 (68th) |
| 55.0 (4th) | RUSHING | 127.4 (44th) |
| 142.6 (6th) | PASSING | 257.0 (92nd) |
In 2004, after coming back to tie the game at 17, Kyle Orton threw a touchdown strike to put Purdue ahead with a little over two minutes to play. An interception that went through Ginn's hands sealed the Buckeyes' fate on their next possession.
That was the last time the two teams have met. It's been so long that none of the current Buckeyes even have game experience against the Boilers. In a way it's kind of like a marquee non-conference game. In fact, even though the Buckeyes have put together 16 consecutive conference wins, the Boilermakers enjoy a one game winning streak.
We do know one thing, however: Purdue can move the ball. Tiller's teams usually can. Thankfully the Buckeye defense is as good as it has been for a long time. The outcome of the battle between these two units will go a long way towards determining the winner of the game.
---
Opponent: The key to Tiller's Purdue offense has been the quarterback and the gunslinger du jour is junior Curtis Painter (#12). Painter is having a pretty phenomenal year already having thrown for 1542 yards and 18 touchdowns with only 3 interceptions. A good part of that is the system, but the kid can ball -- as a redshirt freshman in 2005, he was named to the Big Ten All-Freshman team. He was a little more inconsistent last season, finishing with only 3 more touchdowns than interceptions, but still threw for a pretty redonkulous 3985 yards.
Painter has size (6-4/223) and can move a little - especially in short-yardage situations, so the Buckeye defense will have to be on their game. He'll easily be in the top three quarterbacks the Silver Bullets face all season.
Painter will be throwing to a stable of good receivers, most notably senior burner Dorien Bryant (#9). Bryant, a Biletnikoff candidate, has followed up an all-conference season (87/1068) by hauling in 40 passes for 450 yards and 4 touchdowns through the first 5 of 2007. Listed at a generous 5-10/175, he won't be so much of a deep threat as the guy that dinks you do death all night before breaking through for one.
When Bryant is covered, Painter will look to connect with one of the better tight ends in the country in Dustin Keller (#28). Big (6-4/240), fast and strong, Keller averages 16.0 per pop and already has a long of 80 (TD) on the season. What Tim Brewster would give to get his hands on him.
What makes this version of the Purdue offense perhaps more dangerous than years past is a viable running attack. Redshirt junior Kory Sheets (#24) is averaging a healthy 5.8 yards-per-carry and has gone for 144, 111 and 141 yards in his past three games on the way to over 500 just 5 games in. To play in the Purdue backfield, you must also be able to catch the ball. While Sheets is no LT, he is good for about 3 receptions a game, mostly out of check down progressions from Painter.
The Boiler offensive line is lead by 6-5/307 center Robbie Powell (#68). A 3 year starter, Powell anchored a unit that gave up negative yardage only once on every 19 plays last season. Besides plowing the way for Sheets, the line has only allowed 4 sacks on the season.
As good as the Purdue offense is, the defense may be just as bad. Granted, a lot of the yardage they give up comes in garbage time or after the Boilermakers have raced out to a huge lead, but 31 to Minnesota and 19 to Notre Dame freshmen?
Senior outside linebacker Stanford Keglar (#59) is 12th in the Big Ten in tackles, and the Boilers have good size at the position, but nothing to worry about. The defensive line is undersized and outside of a play or two out of defensive end Cliff Avril (#32) should not pose a threat to the Buckeye rushing or passing attacks.
Cornerback Terell Vinson (#5), a transfer from Wyoming, is experienced and a solid tackler - somewhat of a poor man's Antoine Winfield, but his size (5-9) could come back to haunt him against the height he'll see out of the Buckeye wideouts.
The Boiler special teams should cause the most concern for Buckeye fans as they do a lot of things extremely well. The punter is on the Ray Guy watch list, their kicker just turned in a 15 point game against Notre Dame and did I mention they lead the Big Ten in kickoff returns averaging 31.3 a pop? In the opener, Bryant returned one 91 yards for a touchdown against Toledo. Two weeks ago at Minnesota, the Gophers were so preoccupied with kicking away from Bryant on the game's opening kickoff that Desmond Tardy (#6) burned them for a 95 yard touchdown instead.
---
Notes: Dorien Bryant currently sits in the 5th spot on the Big Ten list for career receptions with 245. If he gets his average (8.0) against OSU, he'll pass new Buckeye fan Braylon Edwards and his 252 for 4th on the list... The Boiler offense loves them some symmetry: they've already put up 52 twice and 45 twice on the year... Purdue is holding opponents to 29.4% on 3rd down conversions while they lead the conference in red zone conversions with 93.1%.
---
Buckeye Breakdown: This game is the Buckeye defense's game to win or lose - it's that simple. The crowd, all 62,000 of them, will be into it and liquored up on the most disgusting concoction known to man and the Purdue offense will be ready to play. Currently the lowest ranked unbeaten team, they will have a chip on their shoulder and see this game as an opportunity to prove something to the doubters.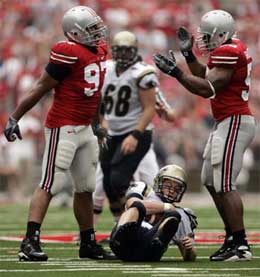 Ohio State must get pressure on Painter because if he's given time to throw, he'll dink and dunk us all into a frustrating night. I don't expect the Purdue wide receivers to beat the Buckeye secondary down the field, but Keller may present a matchup problem, even for a group of linebackers as good as Freeman, Animal and Grant.
Jim Heacock should open up a little bit more of the defensive playbook and by open up the playbook, I mean blitz more often and from all angles. The Purdue offensive line is solid, but I have a weird feeling that Cameron Heyward will have a monster night. A coming out party of sorts in front of 83% of the country that is getting the game. The benefits of playing on the same line as the Gun Show.
If the defense can get to Painter on a consistent basis and lay some wood on him, the Boilers are in trouble should he get injured. Backup quarterback Joey Elliott has all of 14 career pass attempts. Not that we'd root for an injury, but..
Of course, the best way to ensure the Silver Bullets have a strong showing is to keep the Purdue offense off the field. You can bet Tress will want to work the running game early and often. If the Bucks caught Purdue in week 3, I'd be a little more worried about getting it done on the ground, but the improved play out of the offensive line and steady production from both Beanie and Mo Wells should enable the Vest to execute this plan. If Saine gets back onto the field this week, great, but Wells & Wells can get it done and there's no risk in giving that knee another week to ripen.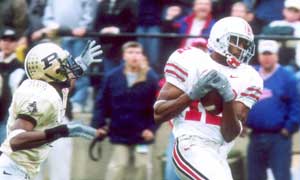 Tiller will expect this and you can bet the Boilermakers worked all week on stopping the run. Should OSU need it, Boeckman, Robo, Hartline and Small should be able to get their yards against a suspect Purdue secondary. Purdue may have Painter and Bryant, but Boeckman leads the conference in passing efficiency and Robiskie leads the Big Ten in receiving yards per game. The offense moving the ball is not really a concern.
I don't expect the crowd or the atmosphere to play that big of a role in the outcome (see Iowa 2006). If the team comes out and plays as well as they have for the past three weeks, they'll have no problems. Even if Purdue brings their best. If the Buckeyes make mistakes on special teams, turn the ball over or earn excessive penalties, we'll have ourselves another nail-biter.
---
Notes: OSU is playing in back-to-back night games for the first time in school history. They are 23-10 all-time in road night games... Ohio State leads the all-time series 35-12-2 going 10-6 in games at Ross-Ade Stadium... Beanie Wells has 100 or more yards and numerous vicious stiff-arms over the past four games... The ABC broadcast crew will be Brent Musberger, Kirk Herbstreit and Lisa Salters... Tressel is one win away from clinching a bowl birth - his 7th in seven seasons at OSU.
---
Jason: OSU 28, Purdue 17
Chris: OSU 34, Purdue 9