After chewing up their first seven opponents, giving up less than a touchdown per game along the way, the Buckeyes are finally set to enter the meat of their schedule.
This could not come at a better time because while the they sit atop the initial BCS rankings, the team's SOS needs some help to quiet the chattering masses. Starting with Michigan State this weekend, the Buckeyes' final five opponents all sport respetable 5-2 records.
While the Spartans would obviously lose by 40 to a comparable SEC squad like Auburn, Georgia or Tennessee, Sparty is bowl-bound and has played extremely well outside of one week this season.
That week of bad play saw the Spartans watch Northwestern's C.J. Bachér throw for 500+ in leading the Wildcats to an overtime victory. In East Lansing.
Outside of the occasional blip, Spartan fans are pretty happy after replacing the walking comedy goldmine that is John L. Smith with Zanesville native Mark Dantonio prior to the start of this season.
The Dantonio subplots for this game are numerous. After getting an early break as an assistant coach at Ohio State in the mid eighties, he joined Jim Tressel's staff at Youngstown State where he served for 5 years. After helping the Penguins to an 11-0 regular season record in 1990, he left to join Glen Mason's staff in Kansas.
Tale of the Tape

| OHIO STATE | OFFENSE | MICHIGAN STATE |
| --- | --- | --- |
| 35.7 (24th) | SCORING | 36.9 (18th) |
| 414.0 (41st) | TOTAL OFFENSE | 467.0 (15th) |
| 195.1 (27th) | RUSHING | 242.7 (9th) |
| 218.9 (69th) | PASSING | 224.3 (63rd) |
| OHIO STATE | DEFENSE | MICHIGAN STATE |
| 6.6 (1st) | SCORING | 24.9 (54th) |
| 211.9 (1st) | TOTAL DEFENSE | 332.6 (36th) |
| 62.9 (2nd) | RUSHING | 101.4 (24th) |
| 149.0 (2nd) | PASSING | 231.1 (68th) |
In 1995 he came back to the Midwest, joining Nick Saban in East Lansing and remained there until Tressel hired him to serve as the Buckeye defensive coordinator when he got to Columbus. After a successful run that included the 2002 National Championship, he got his first head coaching gig at Cincinnati where he promptly built that program up before taking the head coaching position at Michigan State.
So, if you're keeping up, Dantonio has two stints at each Ohio State and Michigan State and just four years after leaving the Buckeyes, is back in town to face his good friend with his 2nd different team in two seasons. And six is afraid of seven because seven ate nine.
Last season the Buckeyes waxed Dantonio's Bearcats, but his Cincinnati team didn't have Javon Ringer. The reigning Big Ten offensive player of the week and human wrecking ball comes into Columbus after having ripped Indiana for 203 on 29 attempts.
Ringer is in that group of elite Big Ten backs with Hart and Mendenhall and will be one of the better backs the Buckeyes will see this year. That's the type of challenge that gets a top defense up to play. Banged-up or not, this game comes down to how well the Silver Bullets do in containing the powerful back.
---
Opponent
Just how good is Javon Ringer? The junior from Dayton checks in as the nation's 7th leading rusher with 932 yards on the season good enough for a healthy average of 133 a game. After going for 80 in the opener against UAB, he has amazingly increased his production in each subsequent game: 83, 92, 144, 145, 185 and the 203 last week. Crazy to think that after getting 144 in week 4 against the Irish, he followed it up with four proegressively better weeks.
|   | ATT | YDS | AVG | LONG | TDS |
| --- | --- | --- | --- | --- | --- |
| Ringer | 132 | 932 | 7.1 | 80(TD) | 6 |
| McFadden | 147 | 822 | 5.6 | 56(TD) | 7 |
Though Ringer has a game in hand, his numbers compare favorably to Darren McFadden's. Anticipating the Felix Jones comeback, consider that the top two rushers from Michigan State, Ringer and senior Jehuu Caulcrick (#30), have only 100 less yards than the two great Arkansas backs have on the year.
With Ringer's speed and Caulcrick's power running, the two-headed attack will challenge the Buckeye front and linebackers. Ringer's ability to break long runs after a missed tackle really isn't one of those things you can game plan for.
The quarterback play the Spartans have received out of junior Brian Hoyer (#7), another Ohio product, will keep the Buckeye defense from giving all of its attention to the Spartan running game.
After serving as Drew Stanton's understudy for two seasons, Hoyer is having a near Boeckman-like season, completing 61% of his passes for 11 touchdowns against only 3 interceptions. He threw for four touchdowns against Notre Dame, hung 323 on Wisconsin in the narrow loss and completed 20 of 23 last week against Indiana. All you can really ask for out of a first year starter, really.
Hoyer's favorite target is 6-2 junior Devin Thomas (#5). After seeing limited action last season as a sophomore, Thomas broke out of the gate with back-to-back 100 yard games to start the season and is currently leading the conference in receiving yards per game. He lit up Indiana for 13 for 148 last week, yet the week before, the fearsome Northwestern Wildcat secondary held him to 61 yards on 5 catches.
Thomas is Hoyer's primary look when scanning the field, so much so that he has more receptions than the Spartans' 2nd and 3rd-leading receivers combined. The yardage side of things is even more telling as he has more receiving yards on the season than his closest four teammates. Ringer will catch some balls out of the backfield and senior tight end Kellen Davis (#80) will use his size (6-6/246) to position himself for a few receptions.
The Spartan offensive line, while seasoned with upperclassmen, is prone to giving up sacks. Hoyer is not exactly a mobile quarterback and the matchup between his offensive line and the Buckeye front will be of concern to Dantonio.
The defense, led by havoc-wreaking end Jonal Saint-Dic (#94) has been able to get after opposing quarterbacks this season as the Spartans are 2nd in the nation in team sacks. Saint-Dic is leading the Big Ten in fumbles foced (7!!), is 2nd in sacks (8) and 3rd in TFLs. Senior linebacker Kaleb Thornhill (#41) and senior safety Travis Key (#13), both captains, are other players to watch out for.
Their defensive stats may be skewed from the Northwestern game, but other teams have been able to run, throw and most importantly score on this unit. Bachér had his 520, P.J. Hill got 155 on the ground.. you get the picture. They're giving up 34 points per game in Big Ten play and that number has a good chance to rise after this weekend.
Lest we not get too overconfident, Dantonio will put the Spartan defense in the best position to neutralize the Buckeye offensive attack. He was the secondary coach for the Spartans that dark day in November of 1998 and we all remember Will Smith sacking Ken Dorsey on the Hurricanes first play championship game in 2002. Most importantly he knows Tressel and his tendencies. He may not have had the bodies to get it done against the Vest last season, but he's back this year with better talent.
Devin Thomas also does duty returning kicks for the Spartans and is 7th in the nation averaging over 31 per return. Although he doesn't have any scores on the year, that kind of average creates a lot of short fields for the offense. On the flip side, the team is near last in the NCAA in punt returns and punting.
---
Notes: This game will mark the 3rd time in 10 years that the Spartans have faced off against a #1 ranked Buckeye teamm... MSU is 3-13-1 all-time against top-ranked teams, including 2-4 against the Buckeyes when they've been ranked #1... Amazingly, Michigan State is 9-5 against teams ranked in the AP top 10 since 1997... The Spartans and Ohio State are tied for the nation's 3rd-toughest remaining schedule - their remaining opponents have a .719 winning precentage... MSU offensive coordinator Don Treadwell spent 6 seasons with Tressel at YSU... The Vest's nephew Mike Tressel is the Spartans linebackers and special teams coach... Michigan State's roster has 17 Ohioans on it... Dantonio wants this rivalry to be a trophy series.
---
Buckeye Breakdown
After leaving the Kent State game due to injuries last week, both Anderson Russell and James Laurinaitis will be back on the field to face Michigan State. The Animal thing we thought was small, but Russell's quick return surprised most everyone.
The Buckeyes will need both of them to stop the Spartan's mixed attack led by Ringer. He's entering this game with a chip on his shoulder after growing up a Buckeye fan only to have the school essentially pass on him after his senior season at Chaminade ended with him missing the last six due to injury and he had some issues with the ACT. Elusive and quick (4.35/40), as Ringer goes so go the Spartans. Hopefully Boom Herron got his Ringer-on in scout team play during practice this week.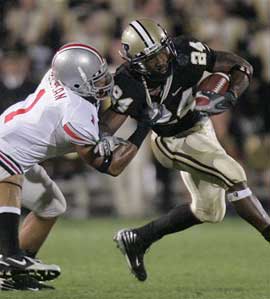 Caulcrick, one of those guys like a Sam Sword where it feels like they've been playing for the same school for a decade, gives the Spartans another option in the backfield and he is the team's primary goal line option.
Between the twenties the Buckeye front will look to limit Ringer's gains and turn up the heat on Hoyer. They shouldn't have any problems getting to Hoyer, but you can bet Dantonio will want to take advantage of that Buckeye speed by mixing it up with draws and screens. Marcus Freeman and the rest of the linebacking corps will have to bring it once again.
Ringer, Hoyer and the gang have probably never seen a defense like what they'll run up against this weekend. The injuries are pretty annoying, but a lot of young, talented players are getting valuable field time. There's no reason to believe the Buckeye defense won't be up to the task and if Michigan State scores more than 14, I'll be surprised.
The offense will be ready to help their defensive counterparts. Michigan State is susceptible to the deep ball and the Buckeyes have a wideout that hasn't caught a bomb in a couple of games. Expect to see Tressel continue to take various chances downfield during the course of the game.
The emergence of Brian Hartline going from a heady, possession receiver type guy to downright playmaker has been a lot of fun to watch. It's no coincidence that as Boeckman continues to grow, so have his receivers. Robiskie, Hartline, Small and crew will put pressure on the Spartan secondary.
For the passing game to get going, the Buckeyes must know where Saint-Dic is on every play. The speed rusher will present a great redemption opportunity to Barton and Boone. If he gets to Boeckman, there's a good chance he'll knock a ball or two loose and turnovers are to victories what Joe Paterno is to road etiquette.
With Beanie seeing only four touches last week, he should be charged and ready for what's sure to be a physical game. Brandon Saine should also see more touches than he saw against the Flashes as he works his way back into more substantive playing time. His explosiveness is known, but his receiving ability is giving opposing coaches yet another aspect to game plan for.
The Buckeye offense will keep it going and the defense will lock down things early on well enough to get into a lead that forces Dantonio into throwing the ball more than he'd like to. Contain Ringer, keep Caulcrick away from having an impact and force Hoyer to throw to beat you.
If Ohio State comes out and executes on offense, defense and special teams the way they have for 98% of this season, there's no chance of an upset. Tress will have the squad focused, they'll be up for the Ringer challenge and barring a turnover bonanza, they'll be heading to Happy Valley at the 8-0 many fans expected prior to the season.
---
Notes: Tressel is 4-0 against the Spartans since he arrived... The Buckeye defense has allowed only 4 touchdowns all season... The Wiz has added the hit on Anderson Russell last weekend as a candidate for his 2nd Annual Cheap Shots of the Year... The win over Kent State marked the first time OSU has scored a touchdown on offense, defense and special teams in the same game since 1997... Todd Jones shares his account of the end of the 1974 MSU upset over OSU... The Buckeye defense has one fewer three-and-out (45) than they've given up points on the season (46)... Bruce Hooley peeps out the Woody...
---
Jason: OSU 31, Michigan State 10
Chris: OSU 30, Michigan State 13