The Buckeyes will get a chance to squelch some of the chatter regarding their soft schedule this weekend with a trip to State College and in the great BCS chase of 2007, it's safe to assume that most of the nation will be rooting for Ohio State to get "exposed". Of course, if they win, the chatter will quickly turn to how bad of a team Penn State is, but what are you going to do?
The Bucks bring their 26-game regular season winning streak to the site of their last regular season defeat, a game in which Posluszny and Hali were everywhere and Troy Smith notched two assists by gifting a fumble and an interception that was returned to the OSU 2 and quickly converted into a touchdown by Michael Robinson.
That 2005 game was part of the season of redemption for Joe Pa as the Lions bounced back from a four win season the previous year to go 11-1 including an Orange Bowl victory over Florida State that was quite possibly the worst football game I have ever watched in my life.
Tale of the Tape

| Ohio State | Offense | Penn State |
| --- | --- | --- |
| 34.3 (33rd) | SCORING | 33.1 (37th) |
| 415.0 (40th) | TOTAL OFFENSE | 405.9 (49th) |
| 199.4 (22nd) | RUSHING | 186.3 (30th) |
| 215.6 (71st) | PASSING | 219.6 (66th) |
| Ohio State | Defense | Penn State |
| 7.9 (1st) | SCORING | 15.0 (4th) |
| 208.5 (1st) | TOTAL DEFENSE | 279.5 (7th) |
| 62.4 (2nd) | RUSHING | 79.8 (9th) |
| 146.1 (2nd) | PASSING | 199.8 (31st) |
Going back two coaches, Ohio State has struggled in Happy Valley, winning there only twice since Penn State joined the conference in 1993.
The Vest is just 1-2 against Penn State on the road with the three games being decided by a combined 10 points, including a 21-20 nail-biter over a pretty bad Paterno team in 2003.
Cooper, not surprisingly, fared even worse at Beaver Stadium, going 1-3. One of those losses was one of the darkest days in Buckeye history as a top-ranked Penn State team loaded with NFL talent absolutely blitzed Ohio State 63-14 in 1994. The cat roar they pipe in over the PA must have gone off 250 times that afternoon. It haunts me to this day.
But back to the present, the young Buckeyes will be going for win number 9 in what will be one of the louder and more intense experiences in their lives. Fans will be trying to repeat the success of their 2005 white-out and the night kickoff gives the 107,000+ all day to get nice and sauced. The Lions will be welcoming their first #1 ranked opponent to town since Notre Dame came through in 1989 and the school has scheduled a "Rally in the Valley" for Friday night. WE ARE.. EXCITABLE.
With the type of fans that would make Subcommandante Wayne proud, they will do everything in their power to help deliver a win for the home team.
---
Opponent There's a very good reason they call Penn State "Linebacker U". The school has been churning out stud backers for over 50 years, including Jack Ham, Shane Conlan and the line-jumping college super freak that was LaVar Arrington.
All everything Paul Posluszny finally graduated last year, but begat All-American Dan Connor (#40) who in turn, is begatting junior Sean Lee (#45), currently the team leader in tackles. Buckeye fans will see a lot of those two on Saturday night.
 
SOLO
AST
TOTAL
PG
Lee
35
44
79
9.88
Connor
43
33
76
9.50
Laurinaitis
25
39
64
8.00
Freeman
28
20
48
6.00
The Nittany Lion linebackers were responsible for holding P.J. Hill to 75 and Rashard Mendenhall to 76. True, H20-3 put up 153 on the Lions, but that came on 44 carries. Good for about 3.5 each.
Much like the OSU defense, Penn State's defense is strong at all three levels with the presence of sophomore defensive end Maurice Evans (#48) and junior cornerback Justin King (#1)
Evans enters the game 2nd in the nation in sacks and 3rd in TFLs and will be the second consecutive top-notch defensive lineman the Buckeyes will have faced. Ohio State's offensive line did a great job on Saint-Dic for 98% of the game last week, yet he got in and made a big play. Evans has the same kind of skills and must be accounted for on every play.
If there's good news, it's that Evans isn't quite the fumble producer that Saint-Dic is and one of his starting tackles, Jason Odrick, went down for the season when he suffered a dislocated ankle last week against the Hoosiers. The Lions also lost a starting defensive end against the Badgers and the front, while formidable, would appear to be growing thin.
King, a 2nd generation Lion, is one of the better junior corners in the nation, but Indiana's James Hardy did get after him for 142 yards and 2 touchdowns last weekend. Still, he has decent size (6-0/186) and he'll make Boeckman pay for throwing deep balls short.
This defense is head and shoulders above anything the Buckeyes have faced this season. The fact that Indiana hung 31 on them is encouraging, but that was in Bloomington.
On offense, Penn State is lead by senior quarterback Anthony Morelli (#14), a guy that's just good enough to start, but not good enough to really do any damage. His two late interceptions in Columbus last season turned a close game into wide margin on the scoreboard. Like the Michigan State game last week, but flipped.
He's been good enough to light up the Buffalos and the Florida Internationals of the world, but his close to 50% completion percentage against better competition is closer to the mark. Illinois picked three of his passes off in their week 5 win over Penn State and he enters the game having thrown interceptions in 3 of his last four games.
Morelli spreads the ball around to the three juniors that were such a big part of that 2005 team as freshman: Deon Butler (#3), Jordan Norwood (#24) and Derrick Williams (#2). None of them will be confused with Calvin Johnson anytime soon, but at the same time, they each have enough speed and ability to make plays.
Senior Rodney Kinlaw (#20) has been a pleasant surprise at the running back spot, entering the game 6th in the conference in rushing. After the Austin Scott situation blew up, Kinlaw had to step up. He piled up 168 and two scores against the Hawkeyes, but Indiana did a better job of bottling him up, holding him to 66 yards on 22 attempts. He's another small back (5-9/200), but not quite the homerun threat that Ringer was as is evidenced by his season long run of only 38 yards.
Red-shirt freshman Evan Royster (#22) will see some touches and with better size and explosiveness than Kinlaw, could be a factor. The combination of Royster seeing the ball and the improved play of out of the Nittany Lion line as of late has resulted in a potent rushing attack. However, both running backs will be hurt by the loss of starting fullback Matt Hahn to a torn ACL last week. Hahn had deceptive quickness and was a favorite dump target for Morelli out of the backfield.
Paterno has the intangibles covered with this team. The Lions are 4th in the nation in fewest penalty yards and 4th in fewest penalties. The kicker is the school's career leader in made field goals and the punter leads the Big Ten and is 14th nationally in punting. Williams is 3rd in the conference in punt returns including one he took to the house against Notre Dame.
It will be a test for the Buckeyes to overcome, the crowd, the opposing coach and the talent on the Penn State roster.
---
Notes: ESPN's College GameDay will air from State College this weekend... The Ohio State contest will be the 649th game Joe Paterno has coached in since joining the Nittany Lions' staff in 1950... The Ohio State/Penn State series is all knotted-up at 11 wins a piece... Musberger and Herbie will be in the booth for ABC... The home team has won 12 of the 14 meetings in this series since 1993... Joe Paterno is 4-7 against teams ranked #1... Jim Tressel was 13 when Joe Paterno took over as head coach at Penn State.
---
Buckeye Breakdown
I don't know whether I am tempting fate or not, but I am honestly not worried about the Penn State offense. There are only a handful of offenses that have a chance to move the ball against the Buckeye defense and Morelli's crew isn't one of them.
Hostile crowd or not, the Silver Bullets should be able to shut down the Penn State rushing attack and force Morelli to beat them through the air. That thought alone gives Nittany Lion fans jitters. Especially when you consider that Morelli will likely not have the type of time needed to make good decisions before heaving the ball downfield.
I am worried about the Buckeye offense, though. The environment and Penn State's defense could give the Buckeye offense fits all night.
Todd showed great poise in Seattle and his age will be a key factor in handling the environment, but this contest strikes me as a game the Vest will gladly take 6 field goal attempts if that's all he gets for the game.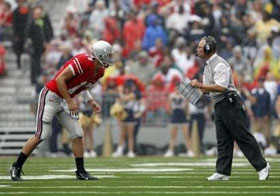 Penn State realizes that shutting down Beanie will go a long way towards helping them win and he must get off to a good start to take some of the pressure (and crowd noise) off of Boeckman and the rest of the offense.
He showed his mettle last week and there's no reason to believe he won't continue to do the same in his biggest career start at tailback. If you open the box score Sunday morning and see that he got another 30 attempts, all should be well in Buckeye land.
I'm not sure what to think about Saine. Last week I thought he'd see his workload increase, but he was ineffective on only 3 carries. For all we know, the turnovers last week could have put the fear of God into Tressel and he'll limit the touches out of youngsters like Saine. Saine could still contribute in other areas. In a game like this that's expected to be a defensive slugfest, a big return could put the offense in position for precious points.
King should have decent success keeping Robiskie in check, but expect the team to continue taking their chances on long balls down the field. It's fifty yard bomb attempts and a cloud of dust, but it seems to be working so far. Robo, after all, put himself on the Buckeye map with the spectacular run and catch from Smith against Penn State last season.
Everyone else seems to be looking at this game as an opportunity to "find out more" about the Buckeyes, but fans have known this team is good for two months. It will be a huge test, but one the Buckeyes will pass by a comfortable margin.
---
Notes: Ohio State is allowing an average of only 2.3 points in the first half of games this season. They have outscored opponents 80-2 in the first quarter... Should the Buckeyes win, they will tie Michigan's Big Ten record for consecutive conference victories at 19... The always brilliant SMQ breaks down the Buckeyes' 2007 start... Tressel is 26-9 overall and 6-4 on the road against ranked teams... If you're making the trip for the game, keep in mind that several PSU players have to clean up the stadium after home games, so pack up any old snot rags you want to get rid of.
---
Jason: Ohio State 22, Penn State 10
Chris: Ohio State 27, Penn State 9