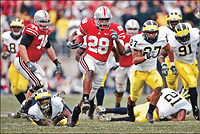 The summer heading into this season was rife with comparisons to the 2002 Buckeyes. The dominating defense, the green quarterback, yada yada. While Boeckman's play has surprised most, there have been some parallels: a tenacious defense, solid running game and dominating wins to start the season including a signature win against a school from the state of Washington.
There is, however, another similarity between the 2007 and 2002 seasons -- much to the consternation of the Buckeye faithful. This year, like the magical run of Tressel's 2nd season features a running back with oodles of talent, but a lingering injury.
In 2002, Dirty Mo sat out of the Cincinnati game in week 4 after getting his knee scoped and then suffered a shoulder stinger late in a 19-14 victory over Wisconsin in week 8. He would go on to miss most or all of the next four games for the Buckeyes before rebounding with 100+ against the Wolverines in the regular season finale.
Fast forward to 2007. Beanie Wells, perhaps the most talented back the Bucks have had since Mo, is off to a monster start but has been bothered with a high ankle sprain the past few weeks. There are a few crack-smoking fans on various message boards suggesting that Wells has a history of injuries and voluntarily took himself out of games at the high school level and The Dispatch's Ken Gordon points out that there's a feeling amongst OSU insiders that Wells' ankle just has a "general weakness" that he's had for years and the coaching staff is none too optimistic that the he'll be pain-free anytime soon.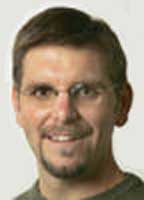 That's fine, but Gordon follows that tip up with this insightful wisdom:
But if it's crunch time and he's not able to answer the bell, then it's fair to wonder if he's the right man for the job. If you can't count on the kid's ankle, get someone else in there.
Wow. The injury is frustrating, but you have to hand it Wells for handling it in the complete opposite manner as the attention-whoring Clarett. No grimacing on the sideline, getting extra padding taped on every 15 minutes. No speaking out to the media about how he's bigger than the program. Just a nagging injury.
What's really interesting is that it appears as if the Vest is hell-bent on Beanie playing every game this season. He's already ruled out sitting Beanie for the Kent State game and he's spoken at length about "injuries being part of the game". Maybe he learned something with Mo in 2002? Maybe the injuries are different enough to necessitate different approaches. With the hapless Flashes coming to town this weekend and capable backups in the form of Mo Wells and Brandon Saine, I'd probably prefer to sit Beanie and keep him fresh for bigger games down the road.
But, I guess that's why he makes $2 mil a year and I don't.
---
Elswhere, some of the BlogPoll ballots of other voters are starting to trickle in for week six and it's wack ballot time: Exhibit A, Exhibit B (EDIT: DSS came to his senses) and Exhibit C.