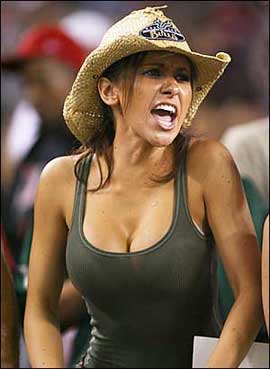 Can you feel the beat of the playoffs drum growing louder? If this season has shown us anything, it's just how hard it is to win your ball game week-in and week-out. We're heading into week 8 and Carroll, Stoops, Miles and Meyer each have a loss (or two in Meyer's case).
We warned last week about something similar to a USF/Boston College BCS Championship game, but I'm not even certain that will be a reality. The Bulls have to go to Rutgers, then UConn before getting Cincinnati and Louisville at home over the next five weeks. Boston College? Not exactly murderer's row, but their last five: at Virginia Tech, Florida State, at Maryland, at Clemson and Miami.
Look, we're as big of Buckeye proponents as you're going to find, but even we have to concede that there's only a 50/50 chance the team sweeps its next five games. What if Ohio State drops one as well? I can already see the congressional hearings after two one-loss teams are chosen to be worthy over 5 other one-loss teams for all the marbles.
In the midst of this chaos sits our ballot, which honestly is a mish-mash of who we think is playing hot right now, which teams deserve their ranking for just getting the almighty "W" and who we think would win a neutral field battle. 100% scientific method. Or something like that.
This week's ballot coincides with the initial release of the BCS rankings and although the Buckeyes sit atop the rankings, the computers no likey. That's cool and we can feel the sudden nationwide man-crush on South Florida -- in fact, there's a good chance that when this week's BlogPoll is released, the Bucks will find themselves in 2nd place. At least that may help some folks believe in the concept a little more.
It's worth pointing out that the Master Coaches Poll has a different opinion. You know the guys that get the games shipped to them on DVDs and vote via conference. The guys like Vince Dooley, Hayden Fry, Don James, Tom Osborne, Gene Stallings and John Robinson. Those guys. They're a unanimous 16-0 in favor of the Buckeyes, while the Bulls are 4th.
The truth is, polls, computer-generated or not, are wack. Once more: American College Football is the only sport on earth where a team can go undefeated and not have a chance to play for the title. We digress.
As always, you can check the ballots of every voter and the final version is due Wednesday morning, so get your thoughts in by Tuesday night if you think we got it wrong.
| | | | |
| --- | --- | --- | --- |
| 1 | | True, they've played nobody. More true: they've kicked a bunch of nobody's asses. | 1 |
| 2 | | If you lose early enough in 2007, you're still in good shape. What's scary is that this team will keep improving through their bowl game. | 2 |
| 3 | | They're undefeated with some quality wins, but there are a handful of teams that would eat their lunch on a neutral field. | 2 |
| 4 | | National championship teams get the breaks the Tigers didn't get in Lexington. They still scare us, though. | 3 |
| 5 | | Rather uninspired victory over a pretty bad Notre Dame, but a win is a win. | 1 |
| 6 | | Got back on track by throttling Washington State 53-7. | 1 |
| 7 | | Slipped past UNC and figure to hang around for another week at least as they welcome Vanderbilt to town. | 1 |
| 8 | | One bone-headed play from a backup quarterback away from being #1. | 5 |
| 9 | | Had the weekend off before welcoming Mississippi State to town this weekend. | -- |
| 10 | | Survived the Jake Locker test in a big way (44-20). Reader Dave N. will be putting his Ohio roots to work by organizing orgy riots ahead of the big Cal game in Tempe this next weekend. | 5 |
| 11 | | Kansas is 6-0 and Danny Manning has absolutely nothing to do with it. | 7 |
| 12 | | Since the Beatdown in the Bayou, Beamer has this squad rolling. Huge game at Boston College this weekend. | -- |
| 13 | | After a bye, it's Florida's turn to try to win in Lexington. | -- |
| 14 | | We are having a hard time believing how bad this team looks right now. Even the savior Joe McKnight was caught from behind against Arizona. | 4 |
| 15 | | This team showed a lot of guts against LSU. They can prove it wasn't a fluke by doing Florida this weekend. | 4 |
| 16 | | Mizzou is for real. Just ask Oklahoma. | 5 |
| 17 | | Candidate #1 for bipolar team of the year. | NR |
| 18 | | We took some heat for ranking them last week, but they went out this weekend and beat a decent UConn to move to 6-1. | 3 |
| 19 | | Don't look now, but the Vols have put together a winning streak. Fulmer promptly orders more gravy. | 5 |
| 20 | | Dancing on Vanderbilt's midfield star after a comeback win? That's what it's come to for the program Dooley built? | NR |
| 21 | | It wasn't pretty, but they handed Houston Nutt and his Hogs another defeat. | NR |
| 22 | | Hawaii should have lost to San Jose State. They're pretty much vulnerable in any game played in the Continental 48 right now. | 6 |
| 23 | | The Bearcats picked the wrong time for Louisville's defense to look halfway decent. | 9 |
| 24 | | Standing at 6-1, Leach and his pirates absolutely spanked A&M. | NR |
| 25 | | Look who's back, seemingly getting things together for an improbable run at a Big Ten title. | NR |
DROPPED OUT: Illinois (#17), Florida State (#20), Wisconsin (#22), Texas A&M (#23), Purdue (#25)