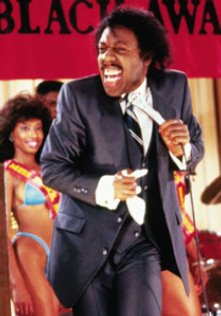 Oh looky there, my new Golden Sombrero has arrived after an 0-4 showing against the number last week. Seriously, do you know anyone dumb enough to lose three straight weeks on Wisconsin minus the points? Sad. On the flip, Jason continued to make his picks based on which coach has the hotter wife and wound up 3-1. For the year, he's sitting on an impressive 16-7 mark. I keep asking myself when the wheels will fall off, but so far he's runnin' thangs. Conversely, I'm 1-8 the past two weeks bringing my cumulative record ATS to 12-11. Makes me wanna check my undies to make sure I don't have a 'Britney' down there.
With Kent State on the docket Saturday, former Golden Flasher Arsenio Hall is sitting in as this week's guest. We had him email his picks instead of stopping by for a few drinks. Something about that long ass finger scares the crap out of us.
Now on to the picks:
LSU (-9.5) @ Kentucky (CBS 3:30)
The Tigers put their #1 ranking on the line in a roadie against the 5-1 Wildcats. A letdown is possible but a half hearted effort might still be enough considering Kentucky didn't show much in last week's loss to South Carolina.
Chris: What a coincidence. I've lost taking both these teams already this year. LSU 34-20.
Jason: Even though they get LSU at home, a double digit Kentucky defeat is probable. LSU 42, Kentucky 24.
Arsenio: If lovin' the Tigers is wrong, I dont wanna be right. LSU 38-17.
---
Missouri (+10) @ Oklahoma (EPSNGP 6:30)
We've been on the Mizzou wagon for much of the year and this is a huge opportunity for their program. The QB battle should be fun to watch with Chase Daniel engineering Missouri's spread attack and Sam Bradford having a big year for the Sooners.
Chris: That's a lot of points but I'll take the Sooners, 34-20.
Jason: I could easily come to regret this, but I think Mizzou wins outright 31-27.
Arsenio: Whoop, Whoop, Whoop! Oklahoma in a rout 41-12.
---
Louisville (+10.5) @ Cincinnati (ESPNU 7:00)
Well, I guess it's up to Brian Brohm to score 80 points to ensure the spread is covered considering that pathetic Cardinal defense. A win would be the 10th straight for UC. The winner is awarded the Keg of Nails. Sorta related question - Does it make any sense to hate UC football just because I hate Bob Huggins and he's not there anymore nor is he a football coach?
Chris: I hate to do this but, UC 42-30.
Jason: The nation's most surprising team gets a crack at the nation's most underachieving team. Nippert will be rocking: UC 51, Louisville 38.
Arsenio: Yeeessss! There's a Gawd somewhere-ha! UC 45-28.
---
Boston College (-13.5) @ Notre Dame (NBC 3:30)
Uh-oh...It's time for another version of the Holy War. The game lost some of its luster after ND ended its perfect season last week in the upset win at hapless UCLA. That said, I wonder if First Down Jesus will witness a victory in South Bend before a possible W against Navy on November 3rd.
Chris: Might as well make it four favorites. BC 34-13.
Jason: I think the Flying Spaghetti Monster keeps this one close. BC 20, ND 14.
Arsenio: Fat Charlie kinda looks like Louie Anderson in the Coming To America days. BC 27-6.