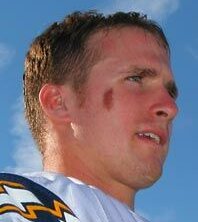 After Shakeup Saturday, it's no surprise that Jason and I were both pretty suckadelic against the spread. He went 2-2 which beat my 1-3 record. One of these day's I'll quit taking Wisconsin minus the points. For the year, Jason leads the way at 13-6 and I'm one game back at 12-7.
With the Buckeyes hitting the road to battle the Boilers, my first inclination was to invite the legendary Gene Keady to offer his picks but then something weird happened. I was sitting on my porch about to ring Gene's cell when I noticed a caterpillar on the concrete and it hit me - the more appropriate choice would be Drew Brees' birthmark. For fear of his birthmark having another obligation, I immediately sent a carrier pigeon to extend the offer and the rest is 11W history.
Now on to the picks:
Kentucky (+3.5) @ South Carolina (ESPN 7:30 Thursday) The Old Ball Coach will have his hands full trying to stop Kentucky QB Andre Woodson but he does have the nation's top ranked pass defense and the home field on his side. The downside is his rush defense is crap. Seems a little odd that Kentucky v. South Carolina is actually a meaningful SEC game but this should be a good one.
Chris: My gut says take the OBC, but I'm going with Kentucky in the mild upset 23-20. Jason: Night game in SC? Kentucky's dream run hits its first snag. South Carolina 28-17. DB's birthmark: Stop staring at my cheek. SC 27-18.
---
Florida (+8.5) @ LSU (CBS 8:00) Easily the best game of the week. Urban is 10-1 the week after a loss and LSU hasn't lost a Saturday night game at home (23 straight) since 2002. Chris Warner over at TigerDroppings has your game breakdown. Florida will be without captain and Safety Tony Joiner as he became the 8th Gator picked up by the po-po in the last 9 months.
Chris: No way I'm going against that D at home. LSU 27-17. Jason: I may regret this, but I think Herban pulls it off. Florida 21, LSU 20. DB's birthmark: Grow up. No, that's not a Tiger Dropping on my face. LSU 24-19.
---
Oklahoma (-9.5) @ Texas (ABC 3:30) The Red River Shootout lost some bite after both teams got pimp slapped last week but the hate is still strong. BevoSports provides some good old fashion OU hatin' by the band Apollo XVIII. Rivalries rule, but will OU hate be enough to compensate for an overhyped INT loving QB?
Chris: With Vince gone, it's back to mediocre seasons for Mack Brown. Oklahoma 30-17. Jason: Did anyone cry harder last weekend than Dallas-based ticket brokers? Sooners 35-21. DB's birthmark: Colt's headed for another 'blemish' on his record. Stoops' troops prevail 40-8.
---
Wisconsin (+3) @ Illinois (ESPN 12:00) The Badgers have won ugly virtually every week but it still seems strange they're getting 3 points. Maybe this is a sign the Illini bandwagon is busting at the seams after the victory against a QB deficient Penn State squad. Are you on board?
Chris: I can't believe I'm taking Wisconsin to cover for the 3rd week in a row. Badgers 20-17. Jason: It may be the Windy City Kool-Aid, but I like the Zooker's boys to pull the upset: 23-13. DB's birthmark: Later, I'm gonna go punch my slimy mom in the face. Wisky 21-20.