There are a couple of weekly roundtables floating around between the BlogPoll voters and the Big 10 Bloggers and we're trying to be as active as we can because, quite honestly, the questions tossed out by the hosts each week are pretty interesting. We've already participated in a Big 10 Blogger roundtable and now we share the love by participating in the 2nd BlogPoll voter roundtable hosted by the fine Georgia blog Hey Jenny Slater.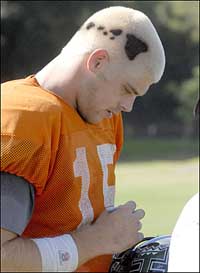 1. By the end of the season, some previously unheralded teams' bandwagons will be so full they'll be having to bump passengers and offer them free vouchers and first-class upgrades; others will have emptied out in a big way. On whose bandwagon are you already scrambling to save a seat? Conversely, which team's bandwagon is being driven by Toonces the Driving Cat, prompting you to leap off now before it careens over a cliff to its fiery death below?
Texas might be the team ripe to crash and burn. They certainly didn't impress anyone with last week's effort and that secondary will never be accused of point shaving. Some think TCU might pull the upset this Saturday. If not, the 'Horns will likely be 6-0 when they take on Oklahoma Oct. 6th in the Cotton Bowl and we'll see what happens from there. This assumes that the rest of the roster isn't cuffed before then considering four Longhorns have been arrested in the last couple months. A safer guess to implode could be Auburn or Va Tech but I'll stick with Texas for now. On the flip, WVU looks like they could go undefeated behind White and Slaton and that schedule.
2. What do you think was opening weekend's biggest mirage -- either a "big win" over a team that isn't really as good as everyone thinks, or an embarrassing loss (or embarrassingly close win) that won't seem quite as embarrassing by season's end?
Obviously, Michigan secured the 'embarrassing loss' crown with the debacle in the Big House. From a Buckeye and Big Ten perspective I actually got more satisfaction out of Notre Dame's loss but I'm pretty sure Michigan has the talent to bounce back. It seems many are now speculating Michigan could lose at least one of the next three games, but many of those foks are the same people who had them ranked in the top 5. Last week obviously raised serious doubts about the defense, special teams and Lloyd's leadership but its not as if they don't have talent on the roster, unlike the Irish.
3. Compared to how you felt Friday night, how do you feel now about your team's chances this season? I'm not just talking about your impressions of your own team -- also take into account their prospects relative to this year's opponents, whom you've also gotten a little more acquainted with after this past weekend's action.
I feel pretty good about the Buckeyes. Sure, they played a 1-AA team but they did what you are supposed to do against that kind of competition early in the season. They got a lot of guys on the field, answered the QB question, stayed vanilla and won by 32 points. Offensively, Boeckman had a great day going 17/23 with 225 yards and 2TD including 9 completions to Brian Robiskie for 153 yards. The main offensive concern was the inability to open holes against YSU's 8 Penguin front, especially on the goal line but it's an easy problem to correct. Tressel knew there were more defenders than blockers at the line of scrimmage but he wanted to challenge the line to open a hole. He could have easily called a sweep and ran outside to score but he was making a point at the expense of scoring faster. Defensively, OSU allowed just 176 total yards even though the entire defensive package could've been drawn on a gnats back. Losing DE Lawrence Wilson for 6-8 weeks to a broken leg was easily the worst storyline of the game. Among others, Ironhead's boy will get a shot to fill that spot opposite The Gun Show, but Wilson will definitely be missed. The only other significant red flag was the 9 yellow flags thrown against OSU. False starts and illegal substitutions were flowing like RedBull & Vodka at the Varsity Club but a few dozen windsprints should rectify those quickly.
As expected, my opinion of this team didn't change much from my preseason thoughts. I expect this team to be 8-0 heading into the tough final four game stretch that takes them to Penn State at night followed by Wisky at home then on to Ann Arbor two weeks later. Saying that, I am taking notice of what former Tressel assistant Mark Dantonio is doing at Michigan State. The Bucks have MSU at home but that could be a tough game now that you can't simply count on MSU to choke on it the last 6 games of the year as they always did under John L. Smith. If nothing else, Dantonio will create a culture of confidence and expectations to win whereas John L. seemed to subscribe to the John Cooper theory of playing not to lose. I also took a gander at Wisky's win over Washington State and Tyler Donovan was certainly impressive throwing for 284yds and 3 TD's. If he can consistently complement the rushing attack led by P.J. Hill then Wisky will be tough to handle, especially considering how well they've fared in the 'Shoe.
4. Looking at how those future opponents performed this past weekend, which developments are you most excited about? Which of your opponents' performances have you a little worried?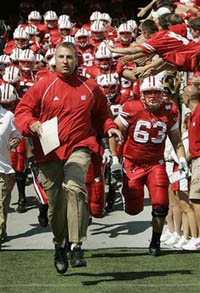 As I discussed, handling Wisky at home won't be easy if Donovan can be a steady QB. He's a senior who's only seen spot duty over the years but you've gotta believe he knows the offense well enough and is smart enough to realize he shouldn't have to be The Man for this team to win. A 'Krenzel-esque' season could be enough to lead them to the conference crown assuming the defense can improve as the season wears on. Washington State ain't exactly USC North but they managed to score 21 points (328 yards) and went 6-14 on 3rd down trailing just 28-21 with 5 minutes left in the 3rd quarter.
I know Penn State looked good last week but I'm still not convinced Anthony Morelli can be counted on to consistenly produce without laying an egg. Lighting up Florida Int'l was good for his confidence but it wasn't enough to make me forget his Vick-like 53% completion rate from a year ago nor his weak performances against OSU, Wisconsin, and Michigan to name a few. I don't want to slaughter the guy but he's getting a little too much hype for a guy who exceeded a 100 QB rating just twice in 13 games last season.
I assume I'm supposed to be excited about Mich1gAAn losing but I dont think it means much as it relates to Ohio State's chances of winning the conference. Considering Hart, Henne and Long all came back to compete for national crown, the only thing left is to finally beat OSU and win a bowl game. Plus, in a rivalry game, anything can happen. Hell, John Cooper had the better talent for at least 8 of the 13 years he faced Mich1gAAn but he coached not to lose and put too much pressure on himself and the team resulting in a 2-10-1 record. With Tressel shifting the momentum of the rivalry (5-1), Lloyd seems to be looking more and more like Coop every day. It's hard to stop that buzzsaw. Buckeye fans know from experience.
5. There are now 32 bowls in D-IA football, meaning 64 bowl teams, meaning any given team now stands a better than 50% chance of going to a bowl. To get that number under 50 percent, we'd have to eliminate three bowls. Which ones would you get rid of?
That's a tough question because I admit I could care less about watching the majority of the bowl games. At least 70% of them only serve as a reward for a mediocre season. Unless it's a fellow Big10 team or a matchup with a unique story line, I'd rather watch The Hills reruns instead.
If I had to choose, I suppose I'd nix the San Diego County Credit Union Poinsettia Bowl first. I know it's in paradise but if the name of your bowl is so long it won't fit across the front of a shirt unless in 8 point font, then it's outta here. Plus, its only 2 years old and nobody could argue that Navy v. Colorado State or TCU v. Northern Illinois is worth saving.
Next on the chopping block is the Motor City bowl. A bowl game in Detroit? What's next, the Watts Bowl? I'm sure those MAC teams love going to Detroit to celebrate the season but I can live without the ol' MCB. I must the only one since the official site creators felt the need to add a Kick-Off Countdown clock. Thanks for the warning.
Lastly, I'd euthanize the Texas Bowl. Only in its second year, the inaugural TB featured a watchable matchup of Kansas State v. Rutgers while this year will be a Big 12 v. Conf USA tilt. That doesn't necessarily give me a chub but the biggest reason to rid ourselves of this bowl is that its only shown on the NFL Network. Maybe its not their fault, but suffering through the birth of the Big Ten Network is enough for me to hold a grudge against the NFL version or any other network/package making me pay extra dollars for mediocre programming save a few choice events.