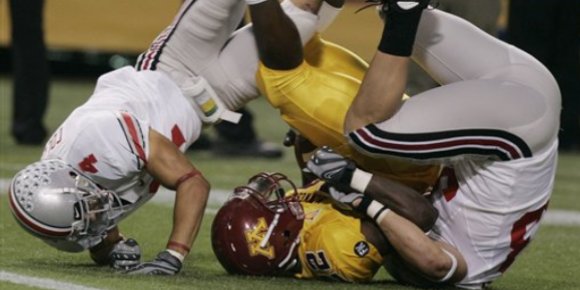 On what turned out to be 'Shakeup Saturday', Ohio State put together a workmanlike effort easily dispatching Minnesota 30-7 in the Metrodome. Shockingly, the Gophers ploy to switch from maroon to mustard yellow jerseys between warmups and gametime didn't propel "Tight End" Tim Brewster's squad to victory although I did develop a strong craving for a Quarter Pounder.
Beanie Wells shook off last week's rolled ankle to the tune of 116 yards on 24 carries, two for touchdowns as OSU jumped out to a 14-0 lead late in the first quarter. To balance the attack, quarterback Todd Boeckman was again efficient if not spectacular hitting 18/29 for 209 yards and 2 TDs including a 52 yarder to TD machine Brian Robiskie to cap a 4 play 98 yard drive on the possession immediately following Minnesota's lone scoring drive giving OSU a 20-7 cushion late in the first half. The circus catch essentially guaranteed victory considering the dominance of the Buckeye defense.
Jim Heacock's unit controlled the Gopher's spread attack forcing 10 punts while allowing just 45 yards on the ground and a paltry 3/16 on 3rd down. Minnesota quarterback Adam Weber managed 27 completions but averaged just 5.3 yards per attempt as the Buckeye defense was its usual swarming self. While it can't be argued that OSU has faced a quality offense, it's hard not to think this unit is capable of leading OSU back to the national title game.
The victory should vault Ohio State from 7th to 4th in the BlogPoll in a wacky weekend that saw #3 Oklahoma, #4 Florida and #5 West Virginia get bit by the upset bug making next week's night game at Purdue a little bigger. A Buckeye victory could lead to a #3 ranking if Florida can pull the upset at LSU. This season is starting to get very interesting..
---
OFFENSE:
The Buckeye offense didn't get off to a great start running 5 plays for 14 yards but A.J. Trapasso's 18 yard run up the right sideline on a fake punt extended the drive giving OSU a 1st down at the Minnesota 42 yard line. Boeckman capitalized on the conversion hitting Jake Ballard on a 20 yard connection followed by a 10 yarder to Dane Sanzenbacher setting up Beanie's first TD of the night to complete the 12 play 74 yard drive that put OSU up 7-0 midway through the opening quarter.
Mo Wells was inexplicably featured on the second drive resulting in a three and out though a questionable spot on a 3rd down catch forced OSU to punt. Trapasso promptly pinned the Gophers at the six producing another three and out setting up the Buckeyes at their own 46. Beanie peeled off 15 yards on first down setting up a 37 yard gain on a reverse to Ray Small. Two plays later, Beanie was back in the endzone pushing the Buckeye lead to 14-0.
The following two possessions yielded just 44 yards on 13 plays but the Gopher backbreaker was on the horizon. Already reeling from a Malcolm Jenkins interception near the goal line giving OSU the ball at their own 2 yard line, the Gophers watched as Boeckman hit Brian Robiskie for a 52 yard TD to cap a 4 play, 98 yard drive that took all of 57 seconds erasing any thoughts of an upset.
The second half was simply a formality after Ryan Pretorius connected from 43 yards out pushing the lead to 23-7 five minutes into the 3rd quarter. The key play was a 21 yard pass to Robo giving OSU a 1st down at the Gopher 35 yard line. The next few possessions were lackluster as Mo Wells spelled Beanie until the second drive of the 4th quarter when Boeckman connected with Brian Hartline for a 19 yard TD.
For the game, OSU piled up 459 total yards and converted 7/16 third downs. I personally felt Boeckman's performance wasn't as good as his stats but he's still proving to be a very effective quarterback. Of course, it helps that the receiving corps is led by one of the most underrated WR's in the country. Robo seems to always be open and his ability to use his body to create separation continues to impress. He made the twisting TD catch look easy. Opposing D coordinators are going to have their hands full especially with Ray Small back at 100%. His speed has added another dimension to the evolving offensive attack and help keep teams from jamming the box with 8 defenders.
---
DEFENSE:
Aside from giving up some yardage on an opening drive that resulted in a missed Gopher field goal and Minnesota's lone touchdown drive in the 2nd quarter, the defense was stout. Freshman running back Duane Bennett was held to 34 yards on 16 carries, while his new backup, returning 1,200 yard performer Amir Pinnix was held to 4 yards on 4 carries. The Silver Bullets were in the Minnesota backfield for much of the evening, wreaking havoc on the option or any type of misdirection the Gophers chose to run.
The linebackers, lead by James Laurinaitis playing minutes away from his childhood home had a monster night. Animal (has he shed the "Little" modifier yet?) paced the team with a season-high 14 tackles, while fellow backer Marcus Freeman chipped in with 11 tackles including a couple of bone-rattling hits on Bennett and Weber. Not wanting to be left out, Larry Grant had the team's lone sack and an interception and subsequent run back in which he did his best Anquan Boldin impression.
Weber and the Gophers did have some limited success through the air, but he was victimized by two interceptions and maybe another one or two that could have been. Jenkins' pick came with him playing in the safety spot, which appears to be paying off due to his tremendous ball-hawking ability. Kurt Coleman, quickly making a name for himself, finished 3rd on the team in tackles with 9 while Anderson Russell finished 4th with 7.
Freshman Cameron Heyward had a nice game, but suffered a Leon Lett moment when after getting great containment on a reverse and making a hit in the backfield, caused a fumble but was too busy celebrating to track the loose ball. Outside of that, the defense got the job done. Perhaps the defining moment in the game for the defense was immediately after recovering a Beanie Wells fumble at the OSU 7 with five minutes to play, the Gophers were held to 3 yards on 4 playes before a turnover on downs.
The defense continues to be the major difference between this year's Buckeyes and the 2006 squad. This unit is simply laying the wood. There's a huge difference between "hitting" and "tackling". The 2006 Buckeye defense tackled. This team hits.
---
SPECIAL TEAMS:
It was another up and down outing for the Buckeye special teams units. Trapasso converted a fake punt into a nifty first down after botching the snap (fresh block by Freeman on the play), put 4 of his 6 punts inside the Gopher 20 and kicker Ryan Pretorius did connect on a 43-yard field goal, but there mistakes as well. For some reason, the Gophers were able to block the extra point after Robo's bomb and they broke off a couple of nice kickoff returns, including one that was saved from a certain score by an excellent Pretorius tackle.
---
NOTES:
The 98 yard drive was the longest since a 99 yarder against Michigan in 2004... Tonight marked Beanie's first two TD game... OSU finished 12-0 all-time in the Triple-H dome... 1998 Thorpe Winner and 11W fav Antoine Winfield introduced the starting lineups for the ESPN2 telecast... Could you not feel Bob Davie daydreaming about coaching this Buckeye team.... OSU added another win to their school record 23-game winning streak... Chris Wells recorded his 4th straight 100 yard game -- the last Buckeye to do that was Maurice Clarett in 2002... Todd Boeckman is on pace for 28 touchdown passes.