Opponent: First, let's get this out of there right away: there's no chance whatsoever that the Penguins will come into Columbus and shock Ohio State. It just won't happen. It's darn near impossible for a MAC school to leave the Shoe with a win, let alone an I-AA FCS squad. Stan Jackson has a better chance of not owning a Norelco T980, than Youngstown State has a chance to win in this one.
Saying that, and if you'll allow me to morph into Holth mode, this is a darn good FCS-level team. In Tom Zetts, the Penquins have a proven senior quarterback that has thrown for 300+ in the division playoffs and already ranks 2nd in school history for touchdown passes. Automatic turf-cred for wearing #24, Zetts is an Academic All-American and lands bonus points for the Boardman thing. In 2006, Youngstown State went 11-3 including a tough 37-3 loss in Happy Valley early in the season. In that game, the Penguins were able to hold the Penn State offense scoreless for the first 20 minutes (a 49 yard field goal finally got them on the board) before size, strength, genetics and other factors took over. After losing to eventual champion Appalachian State in the national semifinals, Youngstown State looks poised to make another run in their division. They'll enter the season a top 10 team and the program appears to be in good hands with coach Jon Heacock, younger brother of OSU defensive coordinator Jim Heacock and the guy that took over the show when Tressel got the big call-up.
Which brings us to the whole Tress as the Godfather of YSU athletics thing. Head football coach for 15 years and athletic director for his final 6, the pre-vest Tressel brought a winning tradition to a region of the country that, after the bad luck the steel industry saw in the early 80s, desperately needed something to look forward to. Within two seasons, the Penguins were playoff bound under Tressel's guidance. He would eventually go on to win 4 national titles, making the playoffs during 10 of his seasons. If Ohio State is his son, YSU is his favorite cousin.
You can look for the Penguins to come out like a scrappy MAC squad - a chip on the shoulder and excited to be playing against some kids they may have played with or against in high school. YSU may hold the Buckeyes scoreless for a while or - gasp - get a quick field goal, but the final score will describe a game that was never really in doubt. Much like when the Penguins played PSU last season, superior talent will prevail over the course of the game - especially late when the size factor starts taking its toll. Regardless, because of Tressels strong affinity to Youngstown State, the Bucks will not be piling on points for the sake of the polls.
Notes: There's an interesting sort of symmetry in that Michigan will be playing two-time defending I-AA champions Appalachian State this weekend... 4 of the top 5 games in YSU history (as voted by fans) are Tressel victories... In 1994 Tressel's Penguins defeated Boise State 28-14 to win their 3rd national title in 4 years... YSU coach Jon Heacock was Tressel's defensive coordinator for 6 seasons.
---
Buckeye Breakdown: Have you heard the one about this season feeling a lot like 2002? That comparison is getting old, but there's definitely a sense of deja vu and Tressel Ball will be the rage, at least in the early going. Fans, myself included, are not very stoked about the out-of-conference schedule this season, but this weekend's feast on Youngstown State is just what the doctor ordered for a team with so many question marks on offense. Defensive units always come together faster because it's more of an instinct thing on that side of the ball. Throw in the fact that Ohio State has an All-American candidate at each of the three levels in the defense and the Buckeye faithful is rightfully feeling good about the 2007 Silver Bullets. Offenses, however, need game-speed repitition to hone their timing and the Penguins will provide that.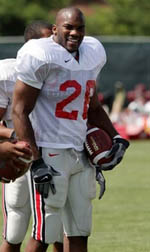 A ton of Buckeyes will see the field as Tressel will try his best to keep the score respectable. We already know that at least two of the quarterbacks will be seeing snaps, but as we previously discussed, it's crucial that Boeckman comes out and has some early success and develops a chemistry with the new receiving corps. The storyline for this team from week to week cannot be about who is going to start at quarterback. The last time a Tressel-coached Ohio State team had this problem, they were squeeking by Marshall, losing to Northwestern and getting waxed by the Hawkeyes. Not fun.
The Buckeye coaching staff will be looking to get a solid win in which a lot of the youngsters see action and most importantly, the team escapes without injuries. That could mean a relatively quick hook for the player most fans are anxious to see perform, Beanie Wells. This is especially true if the team jumps out to a big early lead, but don't fret. He could still get his 100 in the first quarter. How much of a look will Brandon Saine get? Folks are fond of throwing out "Ginn speed", but I'm not suer I've ever seen anyone as fast as Ginn on the field. If he's almost-as-fast, that's just as good.
The Buckeye defense should have its way with the Youngstown State offense. Expect Gholston to be in the Penguin backfield early and often, but he too will see about a half-game worth of action as the coaches get looks from unproven youngsters like Cameron Heyward. Call it blasphemy, but include me in the group that thinks Laurinaitis was the beneficiary of a decent season combined with the hype of the program and the famous dad factor. Don't get me wrong, he had a great season in 2006. I'm just not so sure it was Nagurski-worthy. No fear, though, because he should set the tone for an excellent season this weekend. The game slows down a little each year and the swagger he's accumulated will help (unless the swagger is fueled by In-N-Out burgers).
Honestly, it's hard to get hyped for a game like this. You do have the benefit of watching a relatively stress-free game -- maybe tying one on without the fear of a nail-biter because the only thing fans should be worried about are where they're going to watch the game and who's going to drive them home. Other than that, get the "W", escape injury-free and get ready for Akron.
Notes: Dionte Johnson is getting "running back tips" from godfather Keith Byars... If you've ever wanted to tailgate with the likes of Maurice Hall and Derek Isaman, Buckeye Legends has you covered... mgoblog provides a 2007 Buckeye preview from the other side of the DMZ...
----
Jason: OSU 41, YSU 10
Chris: OSU 45, YSU 0