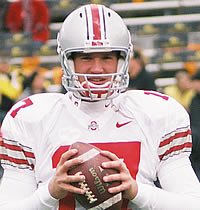 1. Develop a one QB system - We know that all 3 QB's will play in the first two games, but by week three, Todd Boeckman needs to be the clear cut starter. This will allow the OSU offense to gain momentum and consistency throughout the season and avoid any type of unwanted controversy. Boeckman has seen limited action in his first five, er two years, but he has completed 70% of his passes and accounted for 2 touchdowns.
2. RB's need to prove depth talk is accurate - Of course, Beanie needs to rush for 1200+ yards and 10+ TDs but OSU also needs at least one other back to step in to give Beanie a blow and the opposing defense a different look. While Mo Wells will get that chance early, I look for Brandon Saine to slowly take Mo's carries at backup tailback and eventually replace him as the #2 tailback and kickoff returner. Of course, I could be wrong and this will be the year Mo finally earns his scholarship.
3. Trench warfare - The new defensive tackles must cause havoc. The Gun Show, Lawrence Wilson and Ironhead's Boy will force offensive coordinators to account for their presence allowing the tackles an opportunity to shine. Todd Denlinger, Doug Worthington, Nader Abdallah etc. must clog the middle on running plays allowing the linebackers to roam and Robert Rose must utilize his speed on passing downs to help get pressure on the QB without the aid of a blitz. That way, when the Buckeyes do send a corner off the edge or a LB/Safety up the middle, it will rival a blitzkreig of epic porportions.
On the other side of the ball, the offensive line must gel together quickly and put the last game behind them. If the hogmollies can give Boeckman a little time and open up running lanes for the quicks, the Buckeye offense will be more explosive than many project.
4. Believe in and love Tresselball - We know, Tresselball can be frustrating, boring and nervewracking but it's effective. The Vest has proven that much over the years. Tressel is 62-14 at OSU and 197-71-2 over his career. He has been to eight national championship games, winning 5, and OSU has finished in the top 4 of the rankings in four out of the last five years. Good Defense, no turnovers and winning the kicking game are the keys to his success and this season smells a little like 2002. Remember this, in Tressel's 6th season at YSU, he went to the national title game and was there 6 out of the next 9 years. In Tressel's 6th season with the Buckeyes, he went to the national title game and...