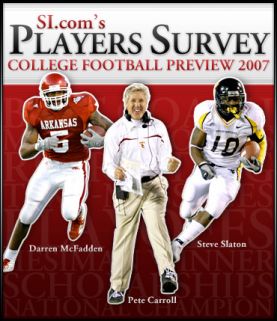 SI has a college football preview out in the form of a player survey. One starter from each of the 119 Division I-A teams were polled on a variety of questions and there were some interesting results -- not among them, the fact that Surfer Pete looks amazingly like a sideline version of Bill Clinton in their graphic.
The players like USC to win it all, with Darren McFadden capturing the Heisman. Clinton Carroll, received the most votes for coach the players would most like to play for, with the Vest only recording two votes (players were not allowed to vote for their own team/teammates/coaches). The two votes for Tressel were surprisingly low, but still one more vote than Lloyd Carr earned, so he has that going for him.
Finally, over 73% of the players would like to see a playoff system implemented. The players want it. The fans want it. For now, all we can really hope for is a couple of years of good old-fashioned controversy. Three unbeaten teams at the end of the regular season for the next few years -- that ought to do it.