A few weeks ago, some of the guys that produce really great Big Ten blogs got together and decided to form a group within the conference to participate in round tables, trade fart jokes and what not. They were kind enough to ask us to join and we were flattered at first, before they told us that we made the cut only due to our enduring devotion to Erin Andrews. With a healthy size of 19, a veritable Voltron of armchair-quarterbacking has assembled and we have our first roundtable of the season.
The press and the coaches will be predicting the Big Ten champ at the Hyatt Regency in Chicago on Wednesday. That's fine, but overdone. In lieu of boilerplate predictions of who will come out on top, which Big Ten team will be the most surprising? Remember, surprises can be good or bad; the underdog who comes out of nowhere to share the title is just as surprising as the favorite who winds up with five losses and no bowl bid.
Perhaps fueled by memories of the relative scare that Illinois gave to Ohio State last season, I think they have a real shot to crack the top 4 of the conference (OSU 1st, Hurricane Ditka 2nd, of course). The Illini have a tough opener against Big 12 North fave Missouri in St. Louis, but their road schedule consists of Syracuse, Indiana, Iowa, Minnesota and Ohio State. Save for the last one, those are all winnable games for a team that has a dynamic quarterback and a stud freshman class.
I know Juice isn't the best passer -- actually, he had the lowest completion percentage of any starter in the nation last year (39.5%) -- but he can only get better and Arrelious Benn could have an immediate impact. The Zooker's squad gets arguably 3 of their 4 hardest games at home in Penn State, Wisconsin and Michigan. They should have beaten Wisconsin last season and the drab confines of Memorial Stadium will no doubt bore one (or two) of these elite teams into defeat.
Imagine it's December, and the consensus in the media is that your team's season was "surprising." Is this a Good Thing or a Bad Thing? What would have to happen for you to consider your team's season surprising?
That depends on the definition of "surprising". Folks in the college football world would be mildly surprised, but not shocked, to see a Jim Tressel team capturing another Big Ten title. This would no doubt be a good thing. On the other hand, a 7-5 squad staring down a birth in the icanhascheezburger.com Bowl would be slightly more surprising and also a bad thing.
A preseason player of the year will also be dubbed in Chicago. For your team to succeed, which player or unit is going to have to put forth a "player of the year" performance? What's the one position that would take your team to the next level if it performs above expectations?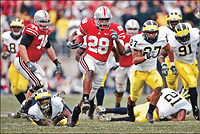 The media and most fans feel pretty good about the Buckeye defense heading into this season, and for good reason. The team has an exceptional performer at each of the three levels, including the GUN SHOW.
A lot of talk is around the quarterback position, but this coach won a national championship with Craig-Freakin-Krenzel, so no worries. Saying that, the guy to watch is Beanie. If Beanie Wells blows up this year, watch out. The offensive line is seasoned and a combination of a great defense, a good line and an elite back can carry a team well into January.
Which Big Ten team's out-of-conference schedule would you most want to have this year? Why? Do you think your team will have out-of-conference losses this year?
We like the Badgers schedule. Two home games and an that all-expenses paid trip to Las Vegas the second weekend of September. Knowing Bret Bielema, he's probably already hard at work cooking up a scheme to cheat the slots.
Here's a chance to look like a complete genius in a few months: pick the biggest in-conference upset that will happen this season. Justify your prediction!
Minnesota over Wisconsin on November 17th is looking pretty good right now. It's at Minnesota, the final game of the season and right after the Badgers play @ Ohio State and against Michigan back-to-back. Depending on how Bucky does in those two games, the potential exists for a colossal letdown or a team too banged up to execute.
Say something nice about the Big Ten school whose name precedes yours alphabetically. Say something mean about the one that comes after.
It's pretty much impossible not to say nice things about the Wildcats. Northwestern is like that nice uncle, that everybody in the family likes and respects. He's not very good at sports, but he's rich. Strike that, wealthy. The best part about Northwestern is that because of its Chicago location, the students graciously allow the large alumni bases the other Big Ten schools to buy up all of the tickets, creating a de facto extra home game. That, and tell me you haven't at least once cheered for the Wildcats when your school needed the team they were playing to drop one.
Times have changed. Back when Penn State were winning big games on a consistent basis, I hated the fact that some of their better players were Ohio kids. The cat roar from 1994 is still seared into my gray matter in ways I can't even describe. These days, the only thing that comes to mind when one mentions Penn State is Joe Pa trucking to the crapper to avoid a pants party of the worst kind.
The fans can be kind of hostile, but they have to resort to white-outs and other treachery to project. I can imagine the fans being somewhat similar to Buckeye fans except Buckeye fans have a vibrant city with plenty of things to do, while Penn State fan usually just fires up the TiVo after home games. That or cruises the strip, squeeling the tires.
USC: great football program, or greatest football program? Also, how about that SEC? Damn, those guys are fast!
USC is a truly great program. Some people despise him, but Surfer Pete has a great gig. Laid back, great weather, the ocean, an endless pool of talent.. the list goes on. The Trojans are like 10 points from four straight national championships. I think they've only lost 8 times or so since the Korean War. Of course, it doesn't hurt playing in the #2 media market in the country, but as long as UCLA coaches are breaking and entering, then USC's hold on the city remains secure.
I plead the 5th in regards to SEC speed.
---
Well, we've filled our writing and analysis quotas for the rest of the year. If you'd like to read some other takes on the questions, here are some contrasting colored things to click: