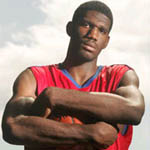 ESPN's Rick Bucher is reporting that the Portland Trail Blazers have informed Greg Oden's camp that they will be selecting the center with the first pick in the NBA draft tomorrow evening. While this comes as no real surprise to many Buckeye fans, you can bet that GM Kevin Pritchard and the folks in Portland wrestled with this one.
Oden's obviously the classic big man the Blazers will be able to build a championship franchise around. By all accounts, he's a tremendous kid and will be an asset to the Portland community. Durant on the other hand, turned in some of the sickest performances I've seen in the college game since Carmelo. No doubt, both Oden and Durant will make fine pros.
Congratulations to Oden, the first Buckeye to be selected #1 overall in the NBA draft. A few burning questions: Are you planning to buy any Blazer gear? What kind of suit will Oden wear to the podium? Conley? Cook?