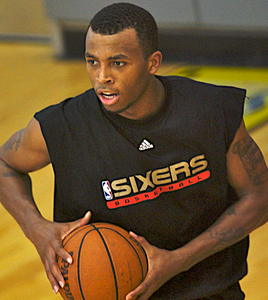 Daequan worked out for the Sixers (#21) Saturday and has workouts scheduled this week with the Warriors (18), Spurs (28) and Heat (20). Cook commented he plans to sign with Conley Sr either today or tomorrow. The deadline to withdraw from the draft is today at 5pm and Andy Katz takes a look at those still undecided.
Not to be outdone by his teammate, Mike Conley Jr. has started his own blog over at Yardbarker. Conley notes his first individual workout (Memphis, #4 pick) went well including dinner with the great Jerry West, however Jr's proudest moment from the week came from hearing his name in a rap by Fabolous. Ah...I know the feeling. I remember when Biggie gave me a shout out on his Ready To Die album. Okay, didn't happen, but that CD should be in your library nonetheless. Back to hoops, Conley worked out for the Bulls on Saturday and poppa Conley says he'd love his son play in the city in which he grew up although nobody seems to think Jr will fall to the #9 pick.
Remember Greg Simpson? I know I do. He was Lima's high school scoring sensation and the cornerstone of a Randy Ayers recruiting class that included Derek Anderson and Killer Macon but found himself kicked off the team after he and Macon allegedly stomped out Simpson's roommate. Anyway, DeathRattleSports loved them some Greg Simpson and recently wrote that all attempts of a Where Are They Now mission led to Nowheresville. So, who has the 411 on Greg Simpson? Is he still going to the rack with that patented under the arm toss and dunk? Man, I remember that dreary era of Buckeye hoops well. It seems like yesterday that Gerald Eaker was shooting out the tires of a teammate's (Antonio Watson?) car that probably ran on stolen gas courtesy of Macon while Carlos Davis served as our go to guy. I guess it's safe to say times have changed.