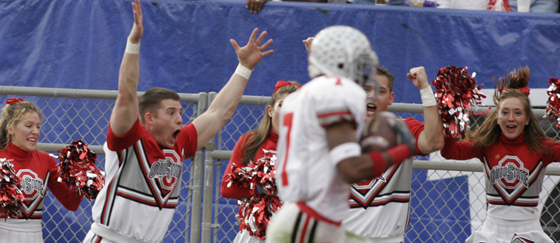 Dolphin players are talking about the team's first round draft selection and from the sounds of things, Ted Ginn has a lot of fellow teammates to impress. Defensive tackle Vonnie Holliday, with his 0 Pro Bowl appearances in 10 seasons had the most venom:
"Needing a young quarterback for the future, you'd think picking Quinn would've been a no-brainer. I mean, the setup was perfect. It's hard enough to get the fans (in South Florida) to come to the games, and now you piss them off? But hey, they must have a plan."
And:
"Ginn Jr. needs to call up Hester and thank him. I guess that's what they're hoping he'll be."
Reigning NFL Defensive MVP Jason Taylor was also quoted as being in disbelief with the selection, while Jason Taylor offered perhaps the most encouraging words about Ginn:
"You don't know about drafts till they play out, anyway. Hell, there were 20 teams that passed on Brady Quinn -- even his own team (the Browns, who picked him 22nd overall after bypassing him at No. 3) passed on him -- and we're the bad ones?"
Holliday sounds like a real team player, doesn't he? Sure it's fine for guys to think these things, but going to the press with statements like these shows a real lack of class. The comparisons to Hester are out there, but Hester can only do one thing and that's return kicks. Ginn, while not the greatest route-runner, has shown that he can play some ball at wide receiver and he's also an excellent down-field blocker. The guy was the freakin USA Today Defensive player of the year as a senior in high school.
Ginn was the single largest factor in Troy Smith's Heisman campaign with the way that he stretched the field, changed momentum with quick touchdowns and created loads of space for guys underneath such as fellow first-round selection Anthony Gonzalez.
So, Mr. Holliday, we'll be checking back with you in a few months.