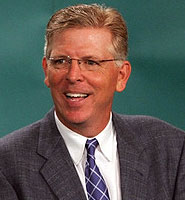 Miami Dolphin coach Cam Cameron held a Q&A with the team's official website and he spoke some more about why the team selected Ginn with their first round pick:
"[The selection] better be the right kind of guy. I was sold on his family. I was sold on the kid. I spoke to Jim Tressel, his coach at Ohio State, and he didn't do anything to sell the kid. I thought it was great. We had other coaches sell their guy hard. Tressel didn't try to sell us on Ted Ginn because he knew he didn't have to. The tapes spoke for themselves."
He's talking about the same tapes that are now popping up like wildfires all over Dolphin fan sites. Are Fin fans seeing the light or just convincing themselves because you gotta dance with who brought ya? Or who you drafted? Something like that..
We know Cam understands what type of athletes come out of Ohio State. His record against the Buckeyes during his 5 years in Bloomington: 0-3. Average score: 32-7.