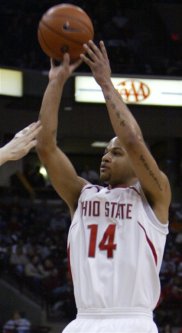 In what is becoming an all too familiar trend, the Buckeyes played disinterested basketball for over half the game before finally deciding to show some heart midway through the 2nd half. Coach Matta's sqaud trailed 27-24 at intermission and 45-43 with just over 7 minutes left before going on a 14-3 run over the next 5+ minutes to take a decisive 57-48 lead with 2:31 to play. Penn State cut the lead to 6 twice in the final minutes but OSU scored 8 of their final 11 points at the stripe to record the 68-60 victory.
The hollow win again exposed this team's problem of sustaining 40 minutes of effort as well as the struggle that is their half-court offense against a zone defense. OSU hit just 5 of 19 from long range (26%) and failed to generate any sustainable offensive rhythm. Luckily, the offense was helped out by the fact that Penn State loves to foul. The Buckeyes went to the line 33 times (23-33) against just 13 attempts for PSU (9-13) resulting in a +14 advantage from the stripe.
Jamar Butler
keyed the comeback scoring 15 of his game high 18 points in the second half including 12 in the last 8 minutes. Butler's 18 matched his season high which came way back in the season opener against VMI. Greg Oden recorded his 9th double double with 17 points and 14 rebounds while Daequan Cook scored 12 points and pulled down 6 rebounds in another solid performance. Recent reserve Ron Lewis added 11 points on just 2-9 from the floor but he did manage to get to line 11 times, making seven.
I expected this game would be a springboard to Sunday's showdown but instead it was a steaming turd. Coach Matta has some work to do to get this team ready for what will be a determined Wisonsin squad following their upset loss in the Breslin Center Tuesday night. Buckle your seat belt as OSU will have a chance to clinch at least a share of the regular season crown.