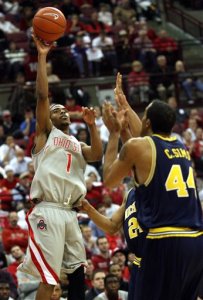 Where: The Schott – Columbus, OH
When: 12:17pm EST
Records: OSU 21-3 (9-1); Boilermakers 16-8 (5-5)
Opponent: Purdue is a confident bunch after blowing the doors off Michigan State 62-38 Wednesday night. The Boilers allowed just 12 second half points holding the Spartans to 36% from the field while forcing 21 turnovers. The 12 points given up equaled a school record. Purdue has won two straight following the 78-60 thrashing by OSU that snapped the Boilers' 13 game home winning streak.
Players: It's late and OSU crushed these guys three games ago so I'm going to keep this baby short. 6'7" senior forward Carl Landry still leads the Boilers in scoring (19.3) and rebounding (6.7) and will again be pushed out to the perimeter with The Odenator on the floor. Landry scored 16 in his first go round against Oden but did so on 6-17 shooting and it was Oden's first game since the death of his best friend. Senior guard David Teague is the still the second leading scorer at 13.3 per game. Teague and Landry scored 20 apiece in the rout of MSU shooting a combined 16 of 24 from the field. Junior guard Tarrance Crump scored 11 against Ohio State but has scored just 4 points in the two games since. Sophomore guard Chris Lutz shoots 46% from downtown. Bottom line, Purdue doesn't have the horses to beat OSU at home. Period.
Notes: An improbable upset would give Purdue 17 wins for the first time since 2003-2004 and would end a six game slide to Ohio State…Matt Painter is 0-3 against OSU.
Buckeye Breakdown: OSU scored 43 second half points to run away from Michigan 76-63 Tuesday night in the Schott to record their 8th straight win. Mike Conley and Oden combined for 40 points and the Buckeye three point shooters finished 7-16 (44%). The defense allowed Michigan to shoot 48% from the floor behind a lackadaisical first half but turned it up in the second half. For the game, OSU registered 13 blocks. Oden had 7 and Othello Hunter added 4 swats.
Key Players: Tuesday night, Mike Conley set a career high with 23 points along with 6 assists while Oden scored 17. The two shot a combined 17-27 from the field. Conley had his previous career high of 18 points in the previous match up with Purdue and Daequan Cook had a 12 point 10 rebound performance against the Boilers small front line.
Notes: I see the Dispatch's Scott Priestle has bought into my campaign to get Matt Turdwiggler named to the all-conference team with his stellar contributions off the pine…OSU is a 12 ½ point favorite. I say jump on it, but I'm a homer. Fox Sports does have in interesting stat that favors the Under:
The under is 44-18 in Purdue's last 62 Big Ten contests (8-2 this year). Also, the under is 20-7 in the Boilermakers' last 27 Saturday games, 11-3-1 in Ohio State's last 15 on Saturday and 17-7-1 in the Buckeyes' last 25 at home.

The SportsAdvisors.com/FoxSports