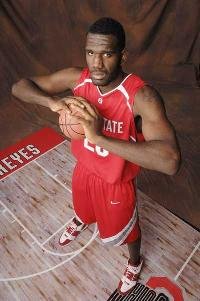 Where: The Schott – Columbus, OH
When: 8:00pm EST
Records: OSU 24-3 (12-1); Nittany Lions 10-15 (1-11)
Opponent: As you recall, the Nittany Clowns gave the Buckeyes a major scare a week ago in State College closing the game on a 29-10 run and had a chance to win it but a last second three point try was long off the back iron. Ed DeChellis' club followed up that performance losing to Wisconsin 75-49 last Saturday to secure their 11th straight defeat. This team is crap. Plain and simple.
Players: 6'5" junior Geary Claxton and 6'5" sophomore Jamelle Cornley are unquestionably the two best players on this squad. Claxton leads in scoring (16.4) and rebounding (8.4) while Cornley is second in both points (14.1) and rebounds (6.8). Cornley is a Brookhaven product returning home to take an ass kicking. Sophomore guard Danny Morrissey is now averaging double figures at 10.2 points per game although he scored just three points against OSU last week. Conversely, Claxton produced a double-double (19, 10) with Cornley adding 14 points and 5 boards in last week's matchup. Enough about these bums. Moving on…
Notes: Did I mention these guys are garbage and that payback for scaring the faithful last week will be brutal and swift?
Buckeye Breakdown: OSU looks to follow up a strong team effort that gave birth to an 85-67 shanking of Minnesota last Saturday. The Buckeyes put four in double figures led by Greg Oden's 19 points and 9 rebounds and Ron Lewis' 16 points off the bench including nine points in an 18-1 run that gave OSU a commanding 65-41 lead with 10 minutes left. The win vaulted OSU to the #1 ranking in the ESPN/USA Today Coaches Poll setting up a 1 vs. 2 showdown with Wisconsin this Sunday. Unfortunately, that stone cold killer named Drew Neitzel poured in 28 to beat the Badgers Tuesday night. Is Neitzel the Big11Ten MVP even though he's on a 4th place team? Back to the Buckeyes…Expect another spirited effort as the squad exacts revenge on PSU for keeping it close last week in a primer for the Wisky game.
Key Players: I would guess that Coach Matta will keep the new lineup that gave Daequan Cook his first collegiate start with Ron Lewis coming off the bench a la last season. Lewis had his best game since a career high 30 point effort versus UNC way back in November and Cook appeared more focused defensively and more patient at the offensive end. The freshman finished with 8 points and 5 rebounds against zero turnovers. I know I've said it before but a productive Cook is essential if the Buckeyes hope to make a deep run in March. Othello Hunter had his best game in a month with 15 points on 5-6 shooting including 4-4 from the line and 5 rebounds while The General, otherwise known as Mike Conley, had 6 points and 5 steals and tied a career high (for the 5th time) with 10 assists.
Notes: An OSU victory will be the 9th straight against the Nittany Lions…Lastly, I want to send a shout out to my momma…Happy Birthday Mom!