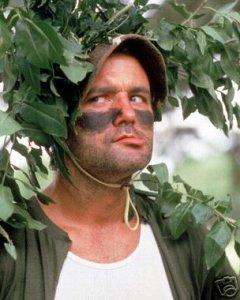 This was a game that Carl Spackler would have enjoyed. The enigmatic Buckeyes received contributions from everyone on their way to a 85-67 demolition of the Gophers in The Barn. The win extended OSU's winning streak to 11 and was the 10th straight conference win, matching the 1971 Buckeyes for the longest such streak in school history. The win should catapult OSU to the #1 ranking for the first time since 1962.
The Buckeyes jumped out to a 17-8 lead after a Ron Lewis three at the 12:40 mark but Minnesota responded with a 6-0 run to cut it to 17-14 when Matta wisely called a timeout with 10:28 remaining. OSU scored five quick points on an Oden bucket and a three from Daequan Cook pushing the lead to 22-14 with 9:41 left but then Minnesota's Lawrence McKenzie started to sizzle. McKenzie hit consecutive 3's before converting a hoop and harm to make it 24-23 OSU with 8:11 left. On the next posession, Oden got loose for a dunk to make it 26-23 but was whistled for his 2nd foul at the 7:31 mark forcing him to the pine for the remainder of the half. The Buckeyes responded by outscoring Minnesota 17-8 the rest of the way to take a 43-31 lead at intermission. Daequan Cook started in place of Ron Lewis and scored a controlled 7 points on 3-4 shooting while Mike Conley did his thing with 6 points, 6 assists and 4 steals. For the half, OSU shot 56% from the field including 4-6 from deep to gain the 12 point advantage despite 16 first half points from McKenzie.
The Gophers tried to make a game of it, closing to 47-40 on a tip-in by McKenzie with 15:40 to go in the game but the Buckeyes peeled off an 18-1 run to make it 65-41 with 10 minutes remaining. Lewis sparked the run with 9 points including a nice two handed jam following up his own missed three from the corner. Minnesota never got closer than 16 the rest of the way.
Greg Oden led the Buckeyes with 19 points and 8 rebounds while Mike Conley finished with 6 points, 10 assists and 5 steals. Ron Lewis responded to losing his starting spot with 16 points on 6-11 shooting. Othello Hunter reached double figures for the first time in 9 games with 15 points and 5 rebounds and Ivan Harris hit 3 of 4 from long range producing 14 points. As a team, OSU shot 50% from the floor (32-64) including 46% from downtown (7-15) and won the rebounding battle by a 38-25 margin.
Overall, a nice win by the Buckeyes for various reasons. Cook played under control, the team didn't resort to launching threes when Oden was forced to the bench for over 7 minutes and the defense produced 10 steals against just 9 turnovers. McKenzie led Minnesota with 22 points as the Gophers lost their 5th straight. Next up: Penn State (Wednesday @ 8pm)