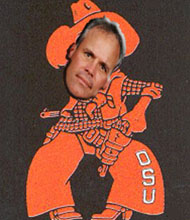 Buckeye cornerbacks coach Tim Beckman is leaving the program after accepting the defensive coordinator position at Oklahoma State. Pfef's right, based on Beckman's efforts in player development and recruiting, Tressel lost a good one.
The Dispatch has additional coverage and including this juicy nugget:
In January, Gundy fired two-year defensive coordinator Vance Bedford, who was then hired as cornerbacks coach at Michigan.
Beautiful.