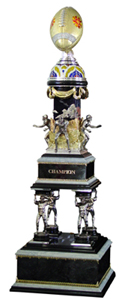 Wow. Was that a bracket-busting 14 seed taking down a 3 seed or what? The 4th quarter on in that game is one of the little things that happen every now and then that stick in your head and will pop up when you start thinking about going to bed before the ending of other games. Going for two and the win -- the nads!! When are the fans -- the folks being targeted in the so valuable ads that run during games -- going to get what they want?
Fox couldn't have asked for a better game for the network's first high profile bowl game. It also provided a great opportunity to scout the broadcast ahead of the big one. Robots appear to have been kept off the air, but we did get a treat in the form of two former Cowboy coaches hitting up the pre-game and halftime analysis. For every bit as sharp as Jimmy Johnson is, Barry Switzer is that stupid. At one point, Switzer gave us a "we" when discussing what the Sooners must do to close the gap in the 2nd half. No doubt, Big Barry will have OSU's back in the booth next Monday.
Finally, why does it look as if the football on the top of the Fiesta Bowl trophy should be hanging around Nelly's neck? Right now, it's a very tight race between that football and Evel Knievel's diamond encrusted walking cane/Wild Turkey flask combo for the most awesome sports bling on the planet.