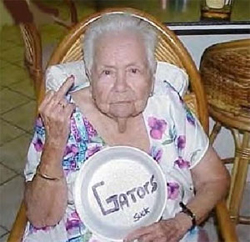 Rob Oller of the Dispatch wrote about a defensive coaching symposium between Florida, Utah and Ohio State that was held last February in Gainesville. Oller gets to the bottom of what made the Florida defense so good given the statistics shared with Buckeye coaches in February. The key -- and this may shock you -- Southern speed.
Quotes from the Buckeye side of the ball about the Florida team speed were mostly on target with no bulletin board fodder. The Vest said it's the fastest team the Buckeyes will face from top to bottom and Troy Smith said the front four had linebacker speed, while the linebackers had safety speed. They're definitely fast, there's no doubting that. But really, there are 5-10 teams every year that have exceptional team speed. Regardless, stud Gator defensive end Jarvis Moss couldn't resist the chance to tell everyone just how fast they were:
I feel they haven't seen people like us, guys down here in the South who move as well as we do and are as fast and athletic as we are. They'll get a pretty good taste of it on the eighth.
Troy sums up the supposed speed edge nicely:
Don't get me wrong. They definitely can run, but the way it's been portrayed is like, I guess, we've been winning our games by walking and jogging.
The real miracle here is how they taught Ohio product Keiwan Ratliff, who, according to eBay is one of Florida's greatest players ever, how to run fast. Believe us folks, the eBay knows football. It got Jeff Bowden fired.
----
Elsewhere, Bob Davie has learned Flash and he wants to show you BCS plays to look out for.
----
Finally, behind the mighty paywall that is ESPN Insider, Todd McShay of Scouts Inc. takes a look at the NFL prospects for each team, while the entire Scouts Inc. team huddled together to bring us this confusing graphic before predicting a Buckeye victory predicting a Gator victory: