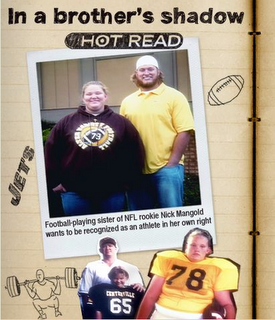 It's impossible to miss over at the Worldwide Leader's website today because they have gone half screen on the story. That story would be about Holly Mangold, sister of former Buckeye and current New York Jets center Nick Mangold. Holly plays guard for the Alter Archbishop High and managed to play a few downs in Alter's recent state semifinal win over New Albany.
Holly, 5-9/310, plays on the 2nd team line which earns her snaps for extra points and some mop-up time at the end of games. What's really interesting is the fact that Holly Mangold is only a junior. This time next season she could be a key cog on one of the top lines in the state.

She doesn't plan to pursue football at the next level, but does hope to throw the shot put or discuss for -- you guessed it, Ohio State.