On August 10th, we posted a lengthy defense of using the word "lying" to refer to how Urban Meyer characterized his knowledge of incidents surrounding Zach Smith and what actions he took in response to them.
I'm personally a big part of that defense, even if I didn't write it. I repeatedly and forcefully said that Urban Meyer lied both on Twitter and on the Dubcast, because, given the information as I saw it (and as it was explained in the forum post), I believed that Urban Meyer's statements at Big Ten Media Days amounted to lying.
But here's the thing: neither I, nor Jason, nor anyone else on the site had the kind of information that the committee that investigated this situation had. They spent weeks poring over documents, conducting interviews, and avoiding the largely black-and-white response to Urban's statements that characterized how I and others on this site reacted to what he said to try and reach a more complete picture of the background that surrounded his statements over three weeks ago.
The findings of the committee reject labeling what Urban Meyer said at Big Ten Media Days as deliberate "lies." Given the complexities of this case, that is prudent and something we should've also done.
That does not mean, however, that they believe that all of Urban Meyer's statements were accurate or completely truthful.
The committee's analysis of Meyer's statements begin with what his knowledge was of Zach Smith's past, from 2009 through 2018. They found that Urban knew of several incidents surrounding Zach Smith, including accusations of domestic violence in 2015. Pointedly, they say that while Shelley and Urban Meyer maintain that Shelley did not relay concerns about allegations of abuse from Courtney Smith to Urban, the investigation committee does not find that credible, saying that Urban likely knew of them:
Shelley Meyer maintains she did not share the texts from Courtney Smith in 2015, but Ohio State found it "likely" Shelley and Urban had at least some communication about these allegations. pic.twitter.com/cNXxHtM88K

— Eleven Warriors (@11W) August 23, 2018
The report goes on to say that:
...although both had doubts about the credibility of Courtney's claims, based on, among other things, Zach Smith's denials and their belief that Courtney Smith's 2009 allegations had been false; by late October 2015, Coach Meyer knew of Courtney Smith's domestic violence complaints against Zach Smith through his knowledge of the 2015-2016 law enforcement investigation.
The reason why this becomes significant is that by Big Ten Media Days, Urban Meyer was forced to confront questions about his knowledge of the 2015 events relating to Zach Smith. This is the account the investigation gives of Urban Meyer's actions on June 23rd: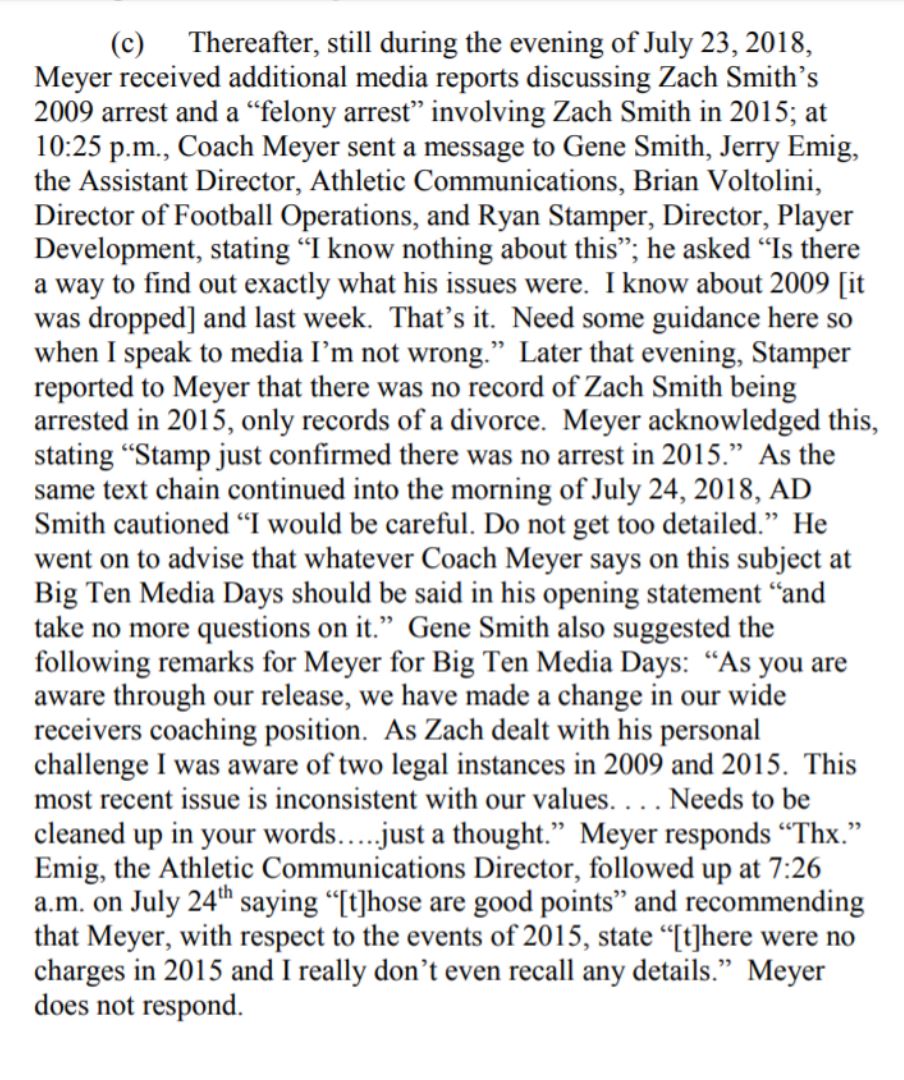 And then his response after: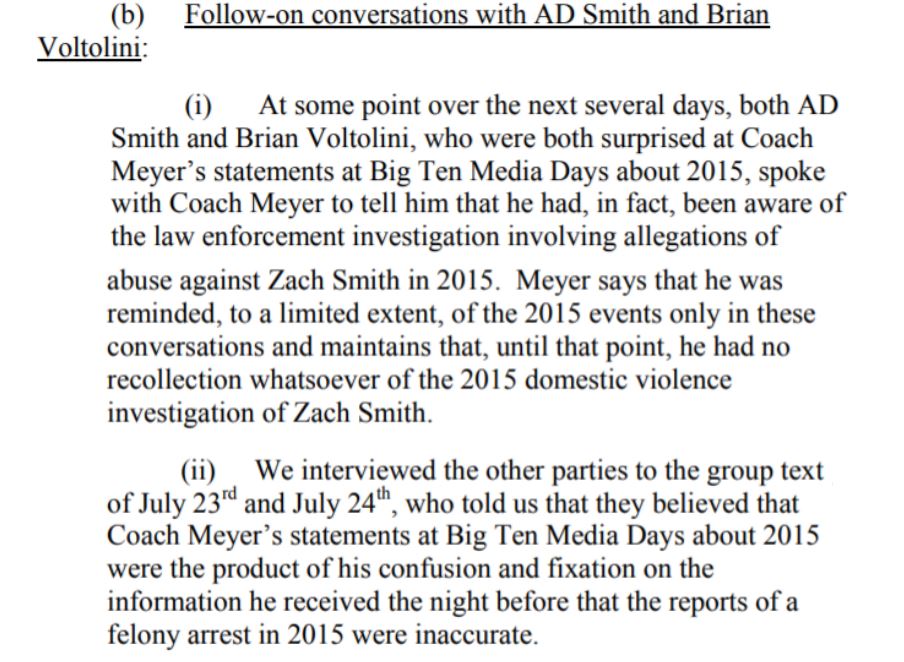 This is the crux of Urban's defense; that during Big Ten Media Days he was referring specifically to a Brett McMurphy report and not his general knowledge of Zach Smith as a person. Tim May had the same interpretation of events in his interview earlier this week with Paul Finebaum, and it isn't a perspective that should be ignored or dismissed out of hand. Urban Meyer has hundreds of responsibilities and obligations that he has to handle on a regular basis, and it isn't inconceivable that he lives very much "in the moment."
What continued to give the investigation pause, however, was information such as this: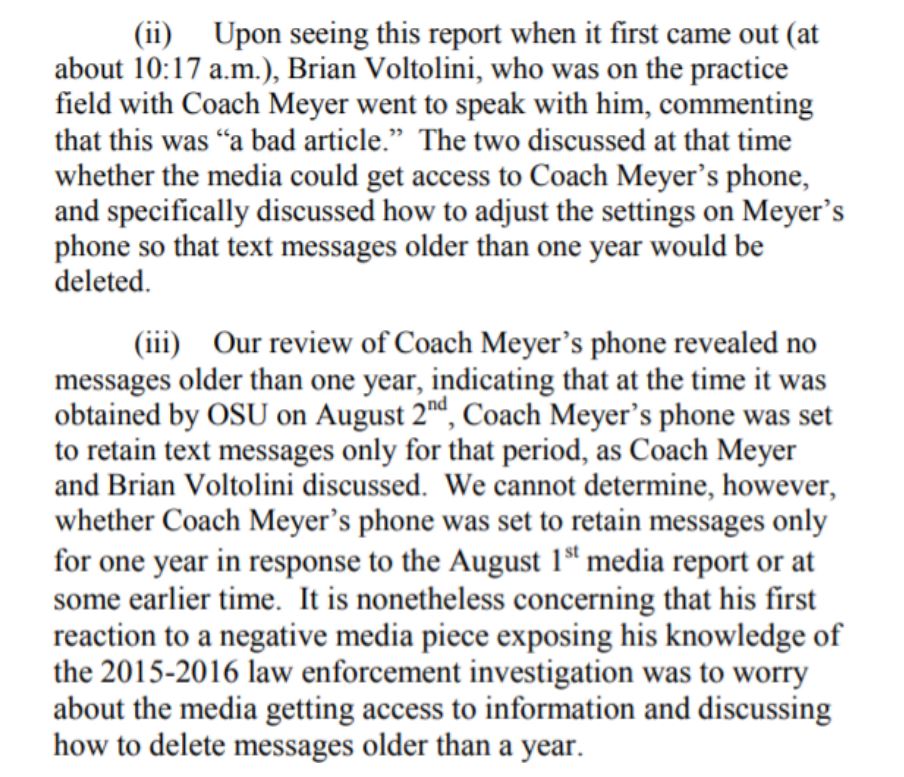 Because of the validity of all of this information, saying that Urban Meyer outright "lied" became something very difficult for the investigation committee to say; there were simply too many variables to consider, and knowing Urban Meyer's specific state of mind is impossible, especially as the report refers to "significant memory issues." All of those things had to have been taken into consideration before findings were announced.
Here's the ultimate findings of the committee:
Although Coach Meyer made significant misstatements about his knowledge of the 2015 events relating to Zach Smith and his former wife at the Big Ten Media Days, they were not part of a deliberate cover-up effort to keep Zach Smith on the coaching staff in the face of evidence of domestic violence by him that Athletic Director Smith and Coach Meyer credited.
And as investigator Mary Jo White said at the press conference:
But his answer swept more broadly than the falsely reported arrest, and coach Meyer falsely stated that he lacked knowledge of all relevant events regarding alleged domestic violence by Zach Smith in 2015. While those denials were plainly not accurate, coach Meyer did not, in our view, deliberately lie.
It's a semantic argument. Many might say that a "misstatement" is the same as a "lie," but that removes the context that the investigation committee provided tonight. A lie is intentional and direct; it is an effort to intentionally mislead the people who hear it to believe something that is not true. That is not what the investigation believes Urban did.
According to the investigation, the statements that Urban Meyer gave at Big Ten Media Days were incorrect and wrong. His awareness of the incidents surrounding Zach Smith was extensive, and while Urban Meyer and the investigation committee disagree about how much he knew and when he knew it, their conclusions about whether Urban Meyer was answering for Zach Smith as a person in general or a specific report regarding Zach Smith are the same: Urban Meyer was referring to a specific report, and misrepresented his knowledge of him as a person.
The accusations surrounding Zach Smith, especially accusations of domestic abuse, were extremely significant and cannot be dismissed. Urban Meyer, Gene Smith, and Ohio State as an institution have to now show that they can effectively address those kinds of issues soberly and seriously in the future by acting directly, instead of waiting for as long as they did.
Meyer, for his part, stated at the press conference that "I wish I had done more, I wish I had known more," and now Urban Meyer and Gene Smith both face suspensions because they weren't proactive enough in pursuing the information they found out about Zach Smith, believing that their responsibilities didn't lie beyond monitoring the situation.
That was wrong of them and they're being punished for it, but if the report shows anything, it's that the use of a black and white word like "lying" to refer to Urban Meyer's statements doesn't come close to capturing the nuance and complexities of what was said in the press conference and what is in the report issued by the investigation. 
Because of that, and in the future we (and I) will be much more careful about how we report and view statements in an incredibly complicated story such as this one.