If you're a current business school student at the Ohio State University Fisher College of Business and you are interested in a very flexible and fun internship with Eleven Warriors, you're in luck.
5/3: APPLICATIONS ARE NOW CLOSED - THANK YOU VERY MUCH.
---
Log into FisherConnect and search for Job 42947 for a chance to work with us this summer.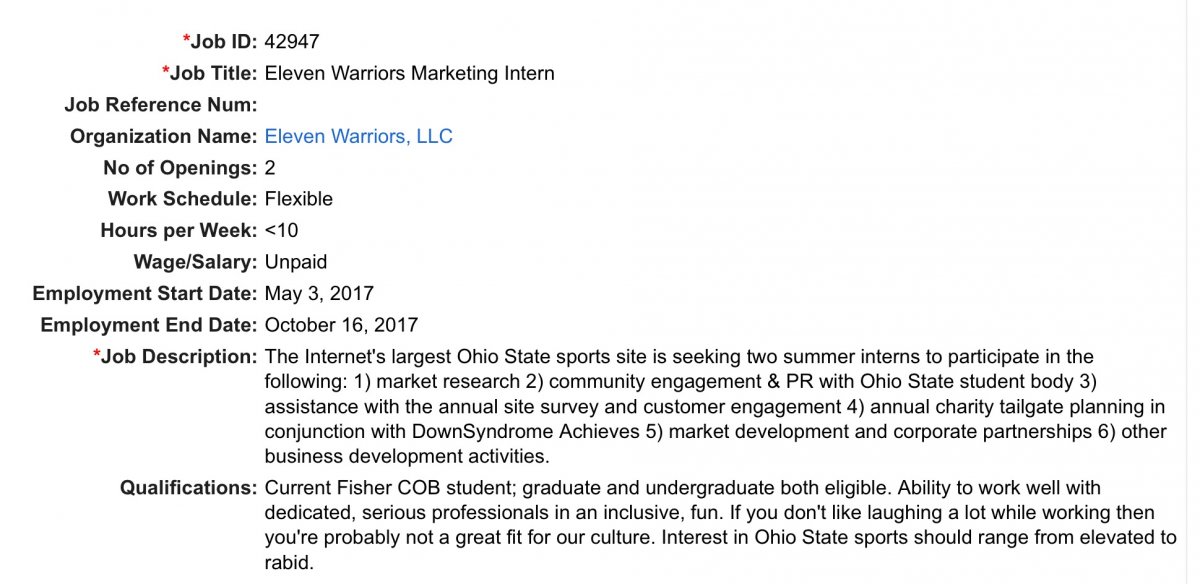 This is the third year we've offered this internship and as with last summer, there will be two positions available.
It's open to sophomores, juniors, seniors and MBA candidates - apologies, alumni. If you're not sure if you're qualified, apply anyway. The worst thing that could happen is we'll laugh at you (in private, because we believe in preserving your dignity)
Your interest in Ohio State sports needs to range from Elevated to Rabid. All of the other nice-to-haves/need-to-haves are in the job posting. You'll gain valuable, relevant and - most importantly - hands-on experience in business concepts you're currently studying such as Demand Generation, Voice of Customer, Marketing Strategy, Communications and Business Development.
Your guide in this summer-long journey is both a seasoned Buckeye blogger as well as a chief executive with actual business experience. Applications will be taken exclusively through the resume drop via Fisher.
Eleven Warriors does not discriminate by age, gender, race or anything yucky. We do reserve the right to make fun of everything else; mostly ourselves. Good luck!