Own the group chat with The Weekender, highlighting the biggest stories in college sports, standout writing from Eleven Warriors, and a glance at what's next.
ESPN Ranked all 130 FBS Head Coaches as Players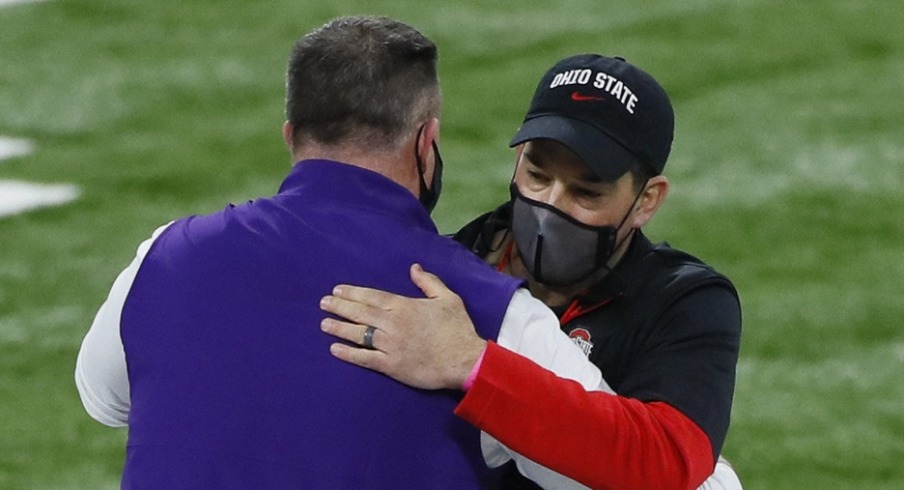 Adam Rittenberg dove into the offseason topic well (ESPN, $) and subjectively graded the current FBS head coaches by how well they performed back during their playing days.
The ones of interest:
| | |
| --- | --- |
| 1 | JIM HARBAUGH, MICHIGAN |
| 2 | PAT FITZGERALD, NORTHWESTERN |
| 6 | SCOTT FROST, NEBRASKA |
| 7 | JEFF BROHM, PURDUE |
| 26 | LUKE FICKELL, CINCINNATI |
| 27 | PJ FLECK, MINNESOTA |
| 31 | BRADY HOKE, SAN DIEGO STATE |
| 41 | JIM FRANKLIN, PENN STATE |
| 43 | RYAN DAY, OHIO STATE |
| 47 | GREG SCHIANO, RUTGERS |
| 61 | MEL TUCKER, MICHIGAN STATE |
| 68 | BRET BIELEMA, ILLINOIS |
| 71 | NICK SABAN, ALABAMA |
| 77 | KIRK FERENTZ, IOWA |
| 78 | TOM ALLEN, INDIANA |
| 80 | DABO SWINNEY, CLEMSON |
| 82 | PAUL CHRYST, WISCONSIN |
No.13 on the list is former Georgia player/current Georgia coach Kirby Smart. He's no.16 in white getting absolutely dusted here, and that's fine - Duce Staley did this to a lot of guys.
I had to post this 51 yard touchdown by Duce Staley against UGA. So good.. @TheWorldof_AJ #SpursUp | #Gamecocks | #FlyEaglesFly pic.twitter.com/ra6pf1DX6J

— James (@GamecockSplash) July 16, 2020
Ocho predicts Scary Terry & Curtis Samuel Fireworks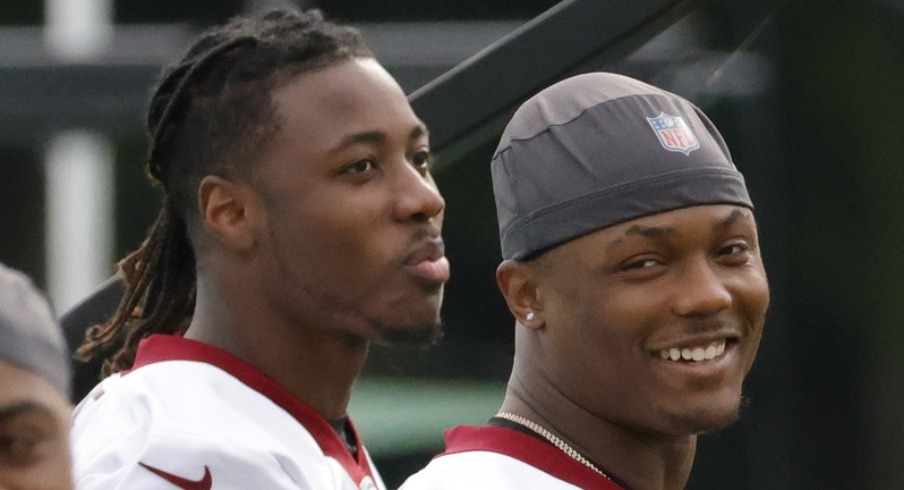 If Ocho said it would be so, it will be so.
Remember this tweet: Terry McLaurin & Curtis Samuel are gonna go crazy with Fitzpatrick at the helm, an aggressive QB that takes chances & will improvise at the los & these two have the skill set that makes his job easier, i guarantee their production is bananas, no hat

— Chad Johnson (@ochocinco) July 14, 2021
It's true. Fitzpatrick is basically redshirt freshman J.T. Barrett with an untamed beard running a playbook void of QB keepers. We have one precedent for both Buckeyes playing together; Terry's second year at Ohio State, which was also Samuel's final year in the program.
That season he played The Percy Harvin Position™ and provided crucial production in what was arguably Zone 6's most disappointing year.
MCLAURIN + SAMUEL | 2016 OHIO STATE BUCKEYES

| PLAYER | CARRIES | YARDS | CATCHES | YARDS | TD |
| --- | --- | --- | --- | --- | --- |
| CURTIS SAMUEL | 97 | 771 | 74 | 865 | 15 |
| TERRY MCLAURIN | 11 | 114 | 2 | 0 | 2 |
WFT signed Samuel away from the Carolina Panthers back in March. Makes you wonder what could have been had Dwayne Haskins figured out a way to stay focused despite living where he grew up, surrounded by all of his friends - but with millions of dollars in the bank.
Rest in Peace, Bobby Roundtree
Illinois DE Bobby Roundtree was an honorable all-B1G player in 2018 as a sophomore with NFL dreams and a long runway ahead of him. He had racked up 11.5 sacks over two seasons playing on a defense where he routinely saw double-teams. 
The following May he was paralyzed from the waist down in a swimming accident while at home in Florida. He had chronicled his comeback on his Twitter account, intent on walking again. He tweeted Thursday evening:
Stay humble and keep ELEVATING

— Bobby Roundtree (@BobbyRoundtr97) July 16, 2021
Roundtree passed away suddenly the following morning. He was only 23 years old.
The Illini Family has lost one of its inspirational leaders with the passing of Bobby Roundtree Friday in the Tampa Bay area.

RIP @BobbyRoundtr97. We will miss you. pic.twitter.com/VRo5tiNIJ5

— Illinois Football (@IlliniFootball) July 16, 2021
Here's the Illinois locker room following its upset of the Wisconsin Badgers in 2019. Even though he was in Florida fighting to walk again, he was never too far away from the Fighting Illini.
ICYMI
Check out Dan Hope's coverage here and Ramzy Nasrallah's Teddy homage from 2020 here.
Colin Hass-Hill went in-depth on the best basketball player in Ohio and one of the most talented anywhere, who is all set to begin his college career in Columbus.
Dan chronicles Aquilla's rise from almost-Miami Redhawk to Ohio State's Female Athlete of the Year to the world stage where next month she will attempt to become the Olympic champion in the shot put.
Up Next
Thursday & Friday: B1G football coaches address the media (entire schedule here; Coach Day addresses the media last on Friday @ 12:30 p.m.). Eleven Warriors will be in Indy and have full coverage both days.
Thursday, September 2: Ohio State opens the football season against Minnesota in Minneapolis.
Saturday, November 27: The Game