As many as half of the Big Ten's starting quarterbacks this year could be quarterbacks that transferred from other schools.
Unless this is the first football article you've read all offseason, you already know by now that Ohio State will have a transfer quarterback in 2019. All three scholarship quarterbacks on the Buckeyes' roster for the upcoming season – Justin Fields (Georgia), Gunnar Hoak (Kentucky) and Chris Chugunov (West Virginia) – began their college football careers at other schools. The four quarterbacks that could have been on this year's roster that signed with Ohio State out of high school – Dwayne Haskins, Joe Burrow, Tate Martell and Matthew Baldwin – all either left early for the NFL (Haskins) or transferred elsewhere (the other three).
That said, Ohio State is far from the only school in the conference that has turned to the transfer market to fill a quarterback need. As quarterback transfers become increasingly commonplace in college football, nearly every school has had to deal with quarterbacks transferring out and most of them have also turned to college football's version of free agency to bring quarterbacks in.
College football's new normal will be amplified this year in the Big Ten, where it appears there could be as many as seven transfers starting at quarterbacks for teams around the conference. Fields is the most high-profile among them, but there are several others who have the potential to rank among the conference's best signal-callers in 2019 or in the future, as well.
Ohio State: Justin Fields (Georgia)
Fields was the most highly touted quarterback on the transfer market this offseason and the No. 2 overall recruit from the high school ranks just one year ago, so he comes with expectations of being an immediate star. After taking the majority of snaps with the first-team offense this spring, he's the clear frontrunner to start at quarterback this fall, though Hoak will get a chance to compete when he arrives on campus this summer as a graduate transfer.
Ohio State's decision to bring in Fields effectively drove Martell and Baldwin away, as both of them made their decisions to transfer after Fields' arrival, but that's a chance Ryan Day and the Buckeyes will likely take every time on a quarterback as talented as Fields. They'd certainly prefer to still have a couple quarterbacks they recruited out of high school on their roster, too, but the starting job was Fields' to lose the second he announced he was enrolling, and he has the potential to be one of college football's best quarterbacks for the next two years – which is why the Buckeyes brought him in.
Michigan: Shea Patterson (Mississippi)
One year before Justin Fields transferred from the SEC to the Big Ten and received a waiver for immediate eligibility with the assistance of attorney Tom Mars, Shea Patterson did the same last year. Now, the former five-star recruit who began his career at Mississippi is entering his second season as the Wolverines' starting quarterback.
Patterson, who some believed would emerge as the Big Ten's best quarterback and a first-round NFL draft pick (both roles filled by Haskins) entering last season, didn't quite live up to the hype in his first season in maize and blue. Still, he was a clear upgrade over Wilton Speight and John O'Korn, the quarterbacks who took most of the snaps for Michigan in 2016 and 2017, and should be among the Big Ten's better quarterbacks again this year.
Brandon Peters, who started four games for the Wolverines in 2017, opted to enter the transfer portal last week. The Wolverines still have three scholarship backup quarterbacks that they recruited out of high school, though, in Dylan McCaffrey, Joe Milton and Cade McNamara.
Northwestern: Hunter Johnson (Clemson)
Another five-star recruit out of high school, Johnson spent one year at Clemson before realizing he would spend the next three years backing up Trevor Lawrence, prompting a transfer to Northwestern. Johnson did not apply for a waiver for immediate eligibility – he wouldn't have started over Clayton Thorson last year anyway – but he has three years of remaining eligibility and is the frontrunner to replace Thorson as the new starting quarterback this year.
Johnson played only sparingly in his lone season with the Tigers, but he's a gifted passer who should quickly make Northwestern's passing offense more dangerous. It's rare for Northwestern to land a five-star talent like Johnson, and he could be a game-changer in Evanston.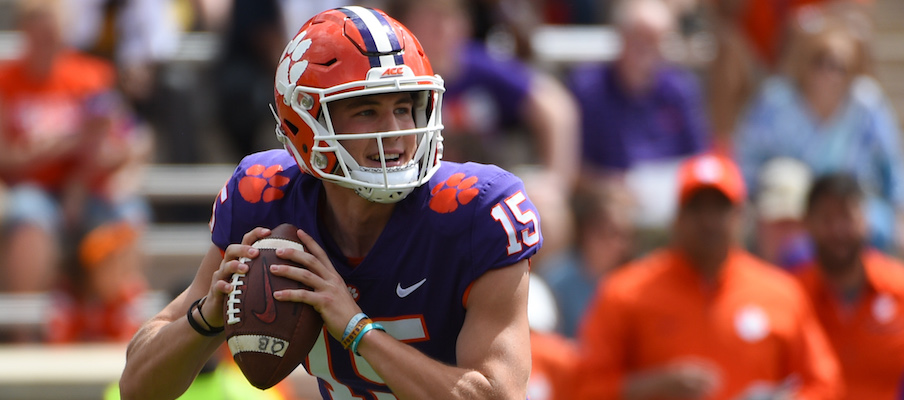 Maryland: Josh Jackson (Virginia Tech)
Jackson, who was Virginia Tech's starting quarterback for the entire 2017 season and the first three games of last season before suffering a season-ending leg injury, is set to arrive at Maryland this summer as a graduate transfer, making him immediately eligible and likely the immediate starter for the Terrapins' offense under new head coach Mike Locksley.
After completing just under 60 percent of his passes for 3,566 yards and 25 touchdowns with only 10 interceptions while also running for 385 yards and seven touchdowns in 16 games as the Hokies' starter, Jackson presumably would have been the frontrunner to start in Blacksburg again this year. Instead, though, he should be an upgrade for the Terrapins over Kasim Hill – who also entered the transfer portal this offseason but has not yet landed in a new destination – and Tyrrell Pigrome, who combined to complete less than 52 percent of their passing attempts last season.
Rutgers: McLane Carter (Texas Tech)
Rutgers just landed a potential starting quarterback this week in Carter, a graduate transfer from Texas Tech who began last season as the Red Raiders' starting quarterback but ended up playing in just five games. He lost the starting job at Texas Tech last season after battling injuries and was not in line to be the starter this year, but did start the Red Raiders' season finale against Baylor, completing 21 of 37 passes for 247 yards with two touchdowns and two interceptions.
Artur Sitkowski arrived at Rutgers last year as a highly touted recruit, but he struggled mightily in his freshman season, throwing just four touchdown passes and 18 interceptions. Now that Sitkowski has a year at the collegiate level under his belt, he should be more ready to play this season and could ultimately still emerge as the Scarlet Knights' best quarterback, but Carter should get a chance to win the job this summer.
Illinois: Matt Fink (USC)
Like Rutgers, Illinois reportedly landed a graduate transfer quarterback this week in Fink, who will also have a chance to compete for the starting job this summer. Fink appeared in just seven total games and attempted just 18 total passes as a backup quarterback for the past two years at USC, but he could quickly emerge as the best quarterback on the roster now that he's playing for one of the Big Ten's cellar-dwellers.
M.J. Rivers, the Illini's only returning quarterback with starting experience, announced his intent to transfer this past weekend, leaving them with just two inexperienced scholarship quarterbacks in redshirt freshmen Matt Robinson and Coran Taylor. Four-star recruit Isaiah Williams will arrive at Illinois this summer as the program's quarterback of the future, but Fink should have the inside track to starting in 2019.
(Author's note: Fink tweeted Friday that he has not yet committed to any school, leaving Illinois without a third scholarship quarterback for the time being. According to 247Sports' Jeremy Werner, "Fink and Illinois could still be a match," but the Illini are also still recruiting Penn State graduate transfer Tommy Stevens.) 
Indiana: Jack Tuttle (Utah)
Tuttle threw passes to Chris Olave at Mission Hills High School, but now the two San Marcos, California products will be playing for Big Ten East rivals. While Olave appears primed to be one of Ohio State's top wide receivers in his second season with the Buckeyes, Tuttle has a chance to emerge as Indiana's starting quarterback in his first season with the Hoosiers.
Like Fields, Tuttle comes to the Big Ten after just one year at his previous school (Utah) and received a waiver for immediate eligibility. Tuttle didn't see any playing time at Utah last season and Indiana has a returning starter in Peyton Ramsey, so it's not quite as likely that Tuttle will start right away, but the Hoosiers' quarterback competition remains open and Tuttle – a four-star recruit out of high school – offers the most upside as a passer among the three quarterbacks on the roster.
Around the Big Ten
Adrian Martinez is locked in as the starting quarterback at Nebraska after an impressive freshman campaign last season, but Noah Vedral – who sat out last season after transferring to Nebraska from UCF, following head coach Scott Frost – is in line to be Martinez's primary backup, which means he should see at least some playing time this year.
The other six teams in the Big Ten do not have any transfer quarterbacks on scholarship, but Penn State and Wisconsin have both lost notable quarterbacks to transfers out.
Tommy Stevens, who was viewed as a potential starter for the Nittany Lions, is still in the transfer portal and is reportedly considering Illinois, Mississippi State, Kentucky and Miami (Ohio), leaving Sean Clifford as the likely starter in State College. Alex Hornibrook, Wisconsin's starting quarterback for the majority of the past three seasons, transferred to Florida State; that said, he was not expected to be the starting quarterback this year for the Badgers, who have an ongoing competition between junior Jack Coan and true freshman Graham Mertz.