Happy Memorial Day to all who celebrate.
On Memorial Day, we remember the men and women who made the ultimate sacrifice in the service of the United States military. This selfless act deserves more recognition than a day off work and a barbecue, so attend a memorial ceremony, thank a veteran or participate in a personal moment of reflection today.
Let's have a good Monday, shall we?
 TRADITION TALK. If Ohio State offensive assistant Devin Jordan ever made a career switch from football coach to sports journalism, Dan, Garrick, Griffin and I would have some serious competition for our roles at Eleven Warriors, as would the rest of the Ohio State football beat.
On Friday, Ohio State football posted a nine-minute dialogue between Jordan, a wide receiver for the Buckeyes from 2003-05, and current pass-catcher Emeka Egbuka. The duo discussed the tradition of the program's wide receiver room, the culture established at the Woody Hayes Athletic Center in the Tressel, Meyer and Day eras and several other topics.
In my professional opinion (I've always wanted to say that), Jordan asked some excellent questions that led to fantastic responses from Egbuka, and Egbuka wasn't too shabby, either. Props to Jordan and Egbuka for that, and cheers to Ohio State's media team for this video. It was a fun watch. Check it out:

@CoachJordan82 x @emeka_egbuka pic.twitter.com/QuI0Z4Yf8l

— Ohio State Football (@OhioStateFB) May 26, 2023
 BIRTHDAY CRASHERS. On Friday, Kyle McCord and Marvin Harrison Jr. appeared at the 10th birthday party of Cullen Carpenter, the son of former Ohio State linebacker and current Columbus radio host Bobby Carpenter.
Two of the elite humans and players that play for @OhioStateFB @MarvHarrisonJr @kylemccord16 stopping by my son Cullens 10th Bday! So gracious and humble

Selfless guys like them make me proud to be a Buckeye pic.twitter.com/xjHrbmputL

— Bobby Carpenter (@Bcarp3) May 26, 2023
How cool.
This is an experience these kids will never forget. McCord could be Ohio State's QB1 this fall, while Marvin Harrison Jr. is a first-team All-Big Ten honoree, Big Ten Wide Receiver of the Year and unanimous All-American with the chance to add to his trophy case in 2023.
If McCord and Harrison as well-known and well-respected by local and national media and to adults nationwide, imagine who they are to 9 and 10-year-olds. In fact, I can tell you who they are – superstars.
When I was 9, I met former Ohio State running back Brandon Saine during a "Family Fun Night" at the Worthington Rec Center, where my Dad worked. Saine gave me some pointers about how to throw, carry and catch a football, dished out autographs (for free, so back off NCAA) and took pictures with the kids in attendance, such as this one: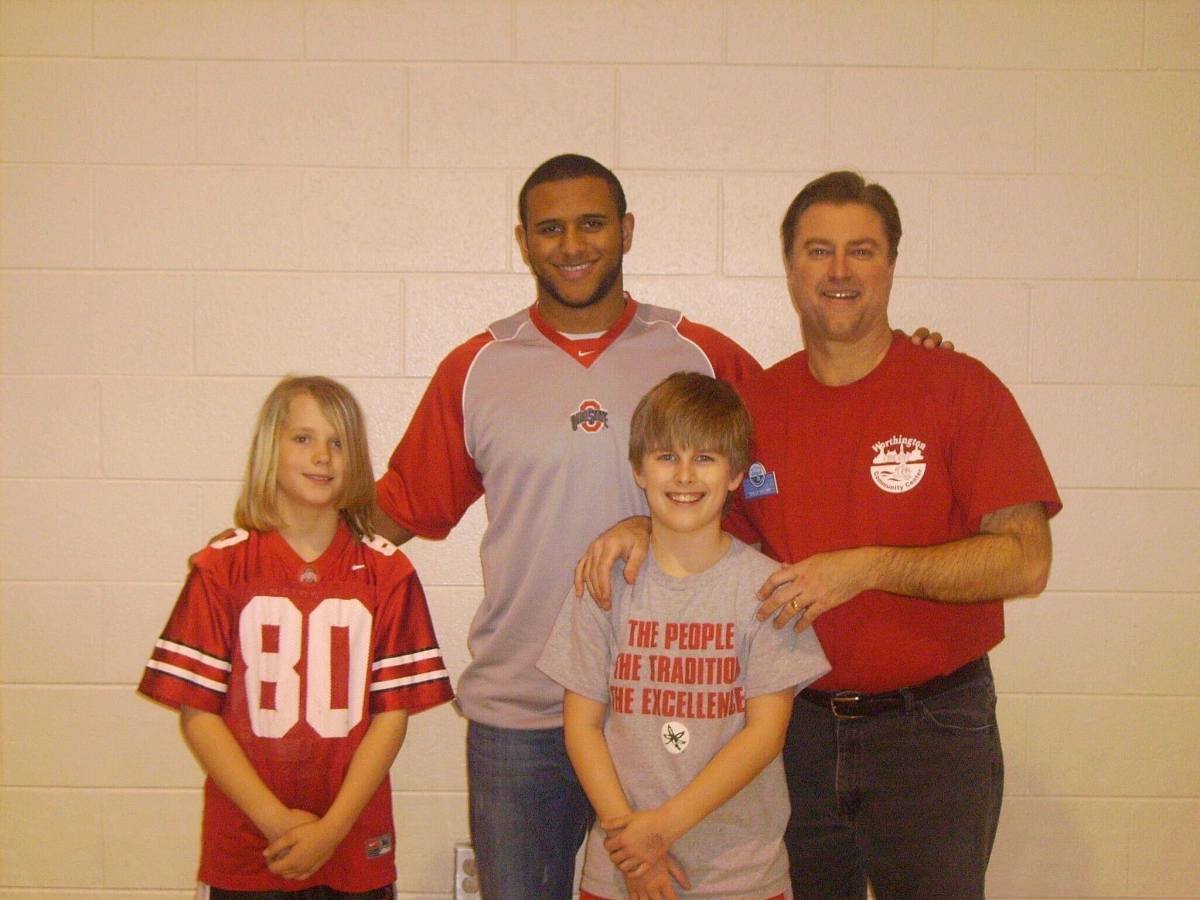 This picture was proudly displayed in my room until my family moved following my high school graduation, nine years after this photo was taken.
What was probably another Friday for Saine meant the world to me, so what a great space for McCord and Harrison to step into here. It will mean more to those kids than they could ever know – hat tips to them.
 YOU'RE A HALL OF FAMER IN MY BOOK. Former Ohio State wide receiver Devin Smith received some fantastic news last week. The Massillon, Ohio, native and graduate of Massillon Washington High School will be inducted into the school's Tiger Football Hall of Fame class of 2023.
From 2007-10, Smith was a two-time All-Ohio performer for Massillon, collecting 110 receptions for 2,119 yards and 24 touchdowns for the Tigers. He also lettered twice in track and field, becoming a state champion in the long jump and a state qualifier in the high jump and 4x200m relay.
At Ohio State, Smith was a touchdown machine that recorded 121 receptions for 2,503 yards and 30 scores across four seasons for the Buckeyes, including 33 receptions for 931 yards and 12 touchdowns in 2014 as part of the program's most recent national championship team. He also spent three outdoor seasons with the Ohio State track and field team, competing in multiple Big Ten championship events and one NCAA regional competition.
Smith was a second-round draft pick (No. 37 overall) to the New York Jets after his Ohio State career. He spent three seasons in the Big Apple before stops with the Dallas Cowboys (2019), Houston Texans (2020), New England Patriots (2020-21), Jacksonville Jaguars (2021) and Carolina Panthers (2021).
In addition to all of Smith's impressive accolades, I will always remember him as the wide receiver who hauled in a 40-yard touchdown pass from Braxton Miller to help Ohio State defeat Russell Wilson and nationally-ranked Wisconsin at the Shoe in 2011. I was at that game, and let me tell you, my ears were still ringing when my head hit the pillow that night. That's how loud the 105,000 were in Ohio Stadium after that legendary moment.
What a moment. What a player. Congratulations to Smith on his many accomplishments. Hopefully, his Massillon Tigers' Football Hall of Fame induction will only be the latest of many more to come.
 LIFE BEYOND FOOTBALL. Last week, some Buckeyes visited JP Morgan & Chase to learn from former Ohio State cornerback Dennis Maug (1992-94) and other lead executives from the company about future career opportunities.
thank you @jpmorgan for their opportunities & knowledge provided to our student-athletes
#GoBucks pic.twitter.com/EQohHNrAaH

— Ohio State Football (@OhioStateFB) May 27, 2023
I mentioned this in a Skull Session many moons ago, but I always appreciate how Ohio State's athletic department prepares its athletes for a future beyond collegiate athletics.
The football program is particularly good at this, as its social media account always flaunts its well-renowned guests or informative field trips on Facebook, Instagram or Twitter. And good on them for that. At some point, football will end for every player, but the benefits of being an Ohio State football alum will stick with these young men for the rest of their lives.
Whether it's becoming an executive director at JP Morgan & Chase like Maag or a trash collection company like the Boren Brothers, the opportunities are endless. I can't wait to see where the current Ohio State players end up. Who knows? Maybe I will work with one of them someday.
 SONG OF THE DAY. "God Bless the USA" by Lee Greenwood. This performance was on Oct. 31, 2001, in New York City, 50 days after the Sept. 11 attacks on the World Trade Center (and the Pentagon in Arlington, Virginia). It was beautiful then. It is beautiful now.
 CUT TO THE CHASE. Bear helps itself to 60 cupcakes from a Connecticut bakery, scares employees... Indian official suspended after he drains reservoir to retrieve phone he dropped while taking selfie... A service dog gets his own college diploma, winning huge cheers... How a "Jeopardy!" champ's disappearance left fans mystified for decades... Why Black Canyon of the Gunnison is worth a visit.